Student Group Re-Registration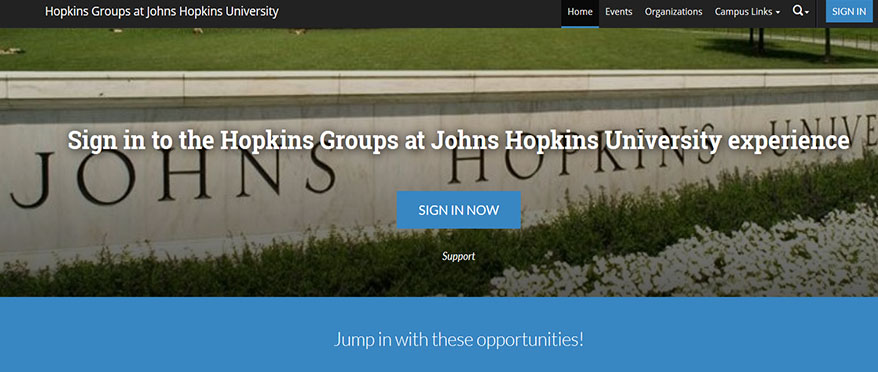 Student Group Re-Registration Period
Opens March 15 and Closes at 11:59 PM on April 15.
The Center for Social Concern's Student group re-registration now takes place on the Hopkins Groups website. All groups must complete the entire re-registration process by April 15th at 11:59 PM. Failure to meet this deadline may result in a group  suspension for the upcoming academic year.
If you are an approved CSC student group, we will provide your group funding, advise you, and set the policies for your group to follow. In addition, Student Leadership and Involvement organizes the fall Student Involvement Fair and manages Hopkins Groups.
For more information about the student group re-registration process, view the Group Management Handbook which can be found on the Forms and Policies page of our website.
Student Group Re-Registration
Step 1: Hopkins Groups
Step 2: Update Student Group Information
Find your student group in "Organizations"

click "Re-register my organization" (at the top)
Note: the system automatically displays a "re-register my organization" option (displayed as a blue bar across the top of the page) to those who have access to re-registering. If you do not see this bar but feel you should, please contact someone who is currently listed as an officer and ask him/her/them to make you an officer by going to your organization's page, clicking on "roster," then "manage roster," then "edit positions." If you are an officer but do not see the blue bar, it is likely because another member of your group has already re-registered you. Please email Caroline Ouwerkerk at CarolineO@jhu.edu for assistance.
Update your organization's "Profile"

Include the mission statement of your organization under "Organization Description"

Update your organization's Profile Picture
Under "Additional Information"

Question 1—Please write "Center for Social Concern"
Question 3—Leave your budget number blank
Question 5—Upload your

Word Document:

guiding document

this form is very similar to the form you submitted to register this past fall
you are welcome to update and submit the answers you submitted in the fall
Note: all questions are required for completion. Do not follow the FAQ provided by Student Leadership and Involvement, Word Document: CSC Groups Guiding Document.
Update your group's roster

Make sure the roster accurately reflects the board members of the group and that you have deleted any inactive members or any seniors who are graduating.

Sign up for the Student Involvement Fair (you will have the opportunity to register for the CSC Meet-and-Greet in a separate step).
Important Resource Information
Next, you will then be taken to a page of resources. These are only relevant to Student Leadership and Involvement student groups. The Center for Social Concern will be holding separate office hours and workshops for CSC groups. Please do not attend the SLI workshops as they will not be relevant to you.
Step 3: Continue Updating Student Group Information
You will then be taken to a page titled "Advisors and Guiding Documents"

Under "Organization Category," select "Center for Social Concern"
Under "Category Coordinator," select "Caroline Ouwerkerk–Center for Social Concern"

note: this designation is just for the purposes of this form
your CSC advisor has not changed

Under "Content Advisor," list the name of any other JHU affiliate who may be advising you

if this is not applicable, leave it blank

Upload your

Word Document:

Guiding Document
Upload your budget by using the

Excel Document:

CSC Group Budget Form
Complete the Risk Management screening questions regarding the activities you intend to perform in the upcoming year
Step 4:
Congratulations, you have completed group re-registration. The Center for Social Concern will be in contact with you shortly.
Have questions? Contact us at volunteer@jhu.edu or (410) 516-4777.