Handshake Resources
If you are a new Handshake user, this guide can help you to set up your Handshake profile. Your profile will help you meet employers and find job opportunities based on your qualifications.
In the coming weeks, your major/program of study and other education information will start to automatically sync with Handshake. In the meantime, feel free to get a head start by filling out your full profile information. You MUST fill out the education section of your profile with your school year, education level, major, and GPA in order to be considered qualified for many of the jobs in the system.
Follow these steps to update your education information on your Handshake profile:
Once you login to your Handshake account, click the pencil icon next to your profile picture and name to edit your basic information. Here you can easily enter your preferred nickname, GPA, and academic standing.

The Education section will be the first to appear on your profile. Click the pencil icon on the left to edit your education information.

First, choose your education level (bachelors, masters, doctorate). After you have indicated your education level, select your academic major. If you have more than one major, you can input them both here. You may also add your minor, but it is not required.

Before you hit save, remember to enter your cumulative GPA if applicable (Department GPA is optional). If your program does not calculate or provide a GPA, please input the GPA from your most recent completed degree that provided one. You may choose whether or not to make your GPA public to employers. However, you must enter your GPA if you want to be considered qualified for jobs that have a minimum GPA requirement – do not leave this blank. *Note: Even if your GPA is not made public to employers, it will still factor into your qualifications.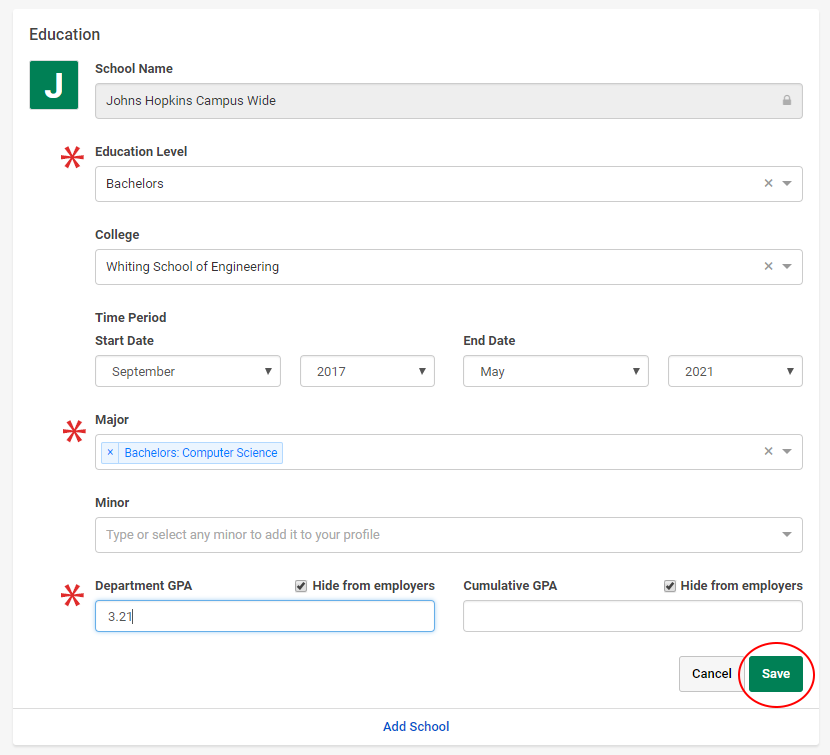 Congratulations! After you hit save, you have completed updating the education portion of your Handshake profile and can begin interacting with employers and peers.
Feel free to keep filling out your Handshake profile by entering your work experience, organizations, and extracurriculars. You can also add relevant courses you have taken and upload projects and presentations showcasing your best work. Use Handshake to interact with employers and your peers to discover new opportunities available to you.
Note: As of August 13th, Handshake will be adding in a feature that allows you to enter work authorization information directly. Here is a link to help you out: https://support.joinhandshake.com/hc/en-us/articles/115014911488