Homewood Career Center
Welcome! The Homewood Career Center supports and serves all Krieger and Whiting undergraduates, masters, PhD and postdoc students, regardless of post-graduate plans.
Get Started Today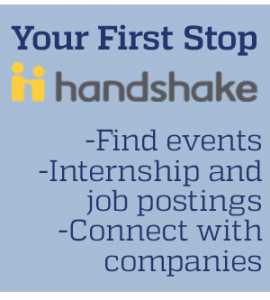 Log into Handshake Use your JHED id to get connected to companies.
Explore your Career Interests Figure out how what you like can become your full-time job with these resources
Join a Career Academy Each industry-specific academy has basic timelines to help you find your dream career.
Develop your Skills Find out how to build a resume, write a cover letter, and network to find internship and job opportunities.
Find Internships and Jobs Internships, research or job shadowing opportunities are key to getting a great job post-graduation.
Drop-in Appointment Hours
Career Coaches on Campus
Starting Aug. 30

Mondays: 2-4 p.m., Mudd Café, Caroline Kelly
Tuesdays: 2-4 p.m., Levering Café, Lauren Barrett
Wednesdays: 11 a.m.-1 p.m., Gilman Atrium, Nadine Goldberg
Wednesdays: 2-4 p.m., Writing Center, Paul Binkley
Thursdays: 2-4 p.m., Mudd Café, Andrea Wiseman
Fridays: 10 a.m.-12 p.m., Brody Café, Tessa McKenzie
Peer Advisors
Daily, 11-3, Garland 389
Tuesday and Wednesdays, 6-7:30pm, Brody
Appointments
Appointments are open to all students starting in their sophomore year. All appointments can be made on Handshake. You will need to select a Career Academy in your Career Interests section to be matched with the correct coach.
---
Upcoming Events
HUB

November 15, 2018

Great Hearts Academies information session

HUB

November 15, 2018

Computer science industry meet and greet

HUB

November 27, 2018

Careers in foreign policy workshop
View All Upcoming Events
---