Homewood Career Center
Welcome! The Homewood Career Center supports and serves all Krieger and Whiting undergraduates and masters students, regardless of post-graduate plans.
Start Your Career Journey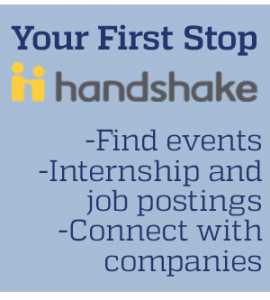 Log into Handshake Use your JHED id and password and fill out your profile.
Explore your Career Interests Figure out how what you like can become your full-time job with these resources
Join a Career Academy Each industry-specific academy has basic timelines to help you find your dream career. Make sure you get the tips, internships and news you need by selecting your career interest in your Handshake profile.
Develop your Skills Find out how to build a resume, write a cover letter, and network to find internship and job opportunities.
Find Internships and Jobs Start thinking about this early, and you'll feel less pressure later. Internships, research or job shadowing opportunities are key to getting a great job post-graduation.
Drop-in Appointment Hours
Career Coaches on Campus
Spring 2018 Drop-in Hours
Mondays, 2-4 pm, Mudd Cafe (Caroline Kelly, Consulting, Finance)
Tuesdays, 2-4 pm, Levering Cafe (Lauren Barrett, Health Sciences)
Wednesdays, 11-1, Levering Food Court, Garland Side (Nadine Goldberg, Arts, Media and Marketing)
Thursdays, 2-4 pm, Mudd Cafe (Andrea Wiseman, STEM and Innovation)
Fridays, 10:30 am-12:30 pm, Brody Cafe (Tessa McKenzie, Nonprofit and Government)
Peer Advisors
Stop by Garland 389 to get personal help from a trained peer advisor.
Monday: 11-3
Tuesday: 11-3
Wednesday: 11-3
Thursday: 11-3
Friday: 11-3
Brody Evenings
Starting Feb. 6, find peer advisors in blue polos in Brody Cafe.
Tuesday: 6-8 pm
Wednesday: 5-7 pm
Thursday: 5-7 pm
---