Arts, Media & Marketing
The Arts, Media and Marketing Academy supports thinkers in the arts, media, marketing, entertainment, communications and public relations fields. Students who aspire to work for major media outlets, market new brands or curate museums collaborate with alumni, parents and faculty from companies like Time, Inc., NBC News, and Sotheby's.
Major Fall 2017 events
Baltimore Mural Tour and Coffee Chat: Aug. 23
Vision Board Workshop: Sept. 14
Foundational Career Labs: Starting September 6
Career Week: September 25-28
JHU Fall Career Fair: September 28, O'Connor Recreation Center
PR and Marketing Intersession Deadline: Oct. 30
RSVP for all events on Handshake today.
This year's Arts, Media and Marketing Week will be March 12-16, 2018.
2017 AMM Week
Breaking into Entertainment and Film Business Alumni Panel
Alumni in media share career strategies.
April 3, 6 pm, Charles Commons, Salon A
Resume Drop-Ins and Internship Meetup
Bring your resume for a quick touch-up.
April 4, 11 am-1 pm, Garland 389
Spring Mock Interviews with JHU Alumni
Practice interviews with industry experts.
April 4, 7 pm, Charles Commons Ballroom
Wall Street Journal Webinar
Alice Cheung, WSJ Art Director, speaks about the journalism business.
April 5, 6 pm, Join online
Employer Roundtable
Connect with industry recruiters.
April 5, 5:30 pm, Charles Commons Barber Room
DMC Personal Branding Lunch and Learn
Personal branding to impress employers.
April 6, 12 pm, Garland 389 *15 person max
DMC classes:
April 3, 6-8 pm: Photo Crash Course
April 4, 6-8 pm: Logo Design w Illustrator
April 5, 6-8 pm: Code-free Web Design
April 6, 6-8 pm: Podcasting
PDF Document: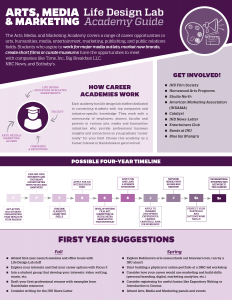 Academy Guides outline suggested industry-centric programming events, clubs, classes, and experiences according to each year of a student's academic career.