Consulting
Consulting Academy participants are critical thinkers who help organizations in government, business, and nonprofit sectors solve problems creatively and to affect real change. Engineering, math, economics, international studies students, and more will connect with professionals from companies like Deloitte, The Advisory Board Company, and KPMG.
Major Fall 2017 Events
Consulting Applications Open: mid-August
Foundational Career Labs: Starting September 6
Consulting Academy Week: September 11 to 15
Consulting Applications Close: September 17 to 27
Career Week: September 25-28
JHU Fall Career Fair: September 28, O'Connor Recreation Center
RSVP for all events on Handshake today.
Monday, September 11 to September 15
Find rooms and RSVP for all of these events on Handshake.
September 11
Bain Day
11 am, Glass Pavilion: Coffee Chat
12 pm, Glass Pavilion: Employer Panel
5 pm, Glass Pavilion: Mock case sessions and information session
September 12
Deloitte Day
1 pm, Gilman Hall Atrium: Drop-in student coffee chats
6 pm, Glass Pavilion: Company information session
September 13
Accenture Day
12 pm, Levering Hall Sherwood Room: Lunch and Learn session
6:30 pm, Levering Hall Sherwood Room: Resume and Interview Workshop
September 14
McKinsey Day
12:30 pm, Levering Hall Sherwood Room: Case workshop/panel
6:30 pm, Glass Pavilion: Company information session
September 15
Consulting Clubs Discussion Panel
12 pm, Charles Commons, Salon A: Undergraduate, graduate and Carey Consulting Clubs discuss salary negotiation, daily life of consultants, work/life balance, travel, and more.
PDF Document: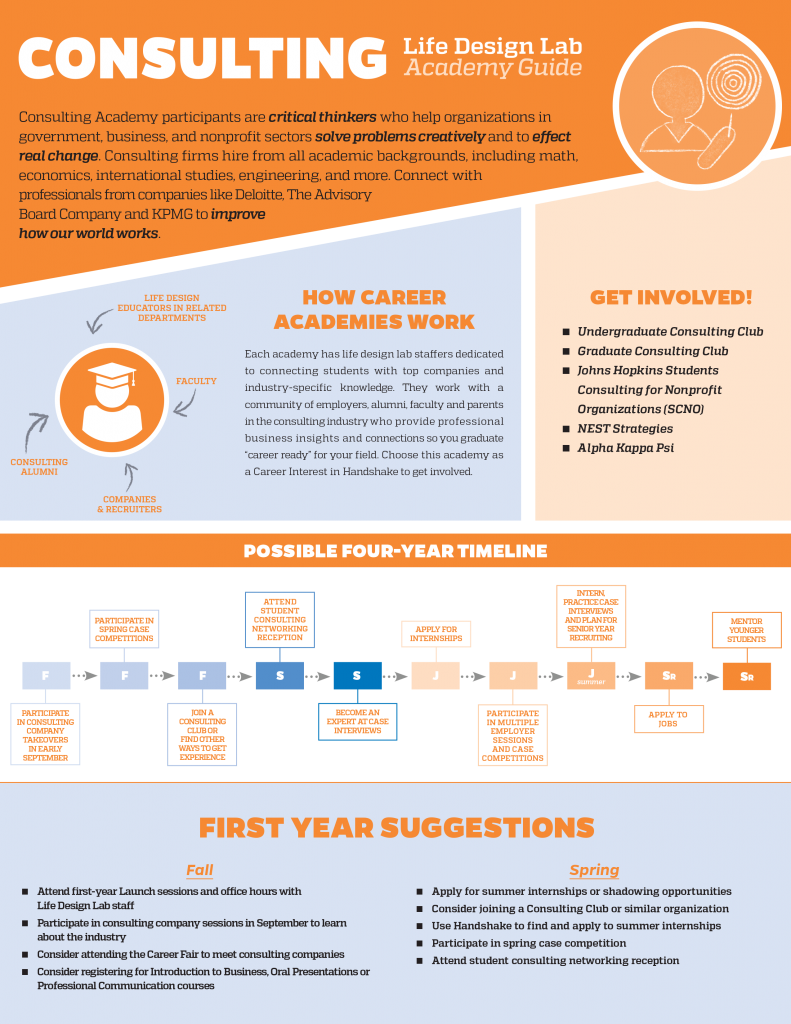 Academy Guides outline suggested industry-centric programming events, clubs, classes, and experiences according to each year of a student's academic career.
Caroline Kelly, Student Career Development
Julie Sanchez, Employer Relations