STEM & Innovation
STEM and Innovation Academy participants are creative, analytical problem solvers committed to understanding how things work and imagining what the future could look like. Our partners at companies like Intel, Genentech, and Google are part of the team that will build STEM students' progress in becoming tomorrow's innovators.
Major Fall 2017 events
Foundational Career Labs: Starting September 6
Sept. 14: Oil and Gas Alumni Webinar
Sept. 15-17: HopHacks
Sept. 16: Engineering in the Real World Bootcamp
Sept. 18-22: STEM and Innovation Career Week
Sept. 20: STEM and Innovation Career Fair, 11-4, Glass Pavilion
Sept. 25-27: Career Week prep events. Attend Resumania Plus for early fair access.*
Sept. 28: JHU Career Fair, 11-3 pm, O'Connor Recreation Center
Sept 28: JHU Fall Career Fair, O'Connor Recreation Center
RSVP for all events on Handshake today.
September 18 to 22, 2017
Oil and Gas Industry Webinar with Nicole Makela at Advanced Power
Sept. 14, 6 p.m. Link online
Engineering in the Real World Bootcamp
Sept. 16, 1 p.m. and 4 p.m., Charles Commons
Check links for both parts on Handshake

Capital One Engineering Resume Clinic
Sept. 18, 10 a.m. to 2 p.m., Levering Sherwood Room
BS, MS, and PhD engineering students are welcome to drop in for a resume review. Career center staff members and Capital One employees will be available to review resumes. Please be sure to bring a hard copy of your resume.
Medtronic Virtual Info Session
Sept. 18, 5 p.m.
Intro to Entrepreneurship w/ TCO Labs
Sept. 18, 6 pm
Charles Commons East Room
Boston Scientific Perfect Your Pitch Workshop
Sept. 19, 12:30 p.m., 272 Bloomberg
WSE Career Night
Sept. 19, Mason Hall 3101
The program will begin with an alumni panel sharing their real-world experiences, followed by an open networking reception with engineering alumni and students. Please plan to bring your questions about job searching, internships, graduate school, and career paths.
STEM and Innovation Career Fair
Sept. 20, 11-4
Glass Pavilion
Almost 20 employers looking for engineering and STEM students only. More casual, startup-style dress acceptable. Bring your resume!
Google Tech Interview Skills
Sept. 21, room TBA
Join the Google team to learn about the skills necessary to be successful in a technical interview.

Maximizing LinkedIn with Tenable Network Security
Sept 22, 12:30 p.m.
Levering Sherwood Room

PayPal Visit *only 25 spots! apply today
Sept. 22, 8 a.m.
Paypal's Timonium office
PDF Document: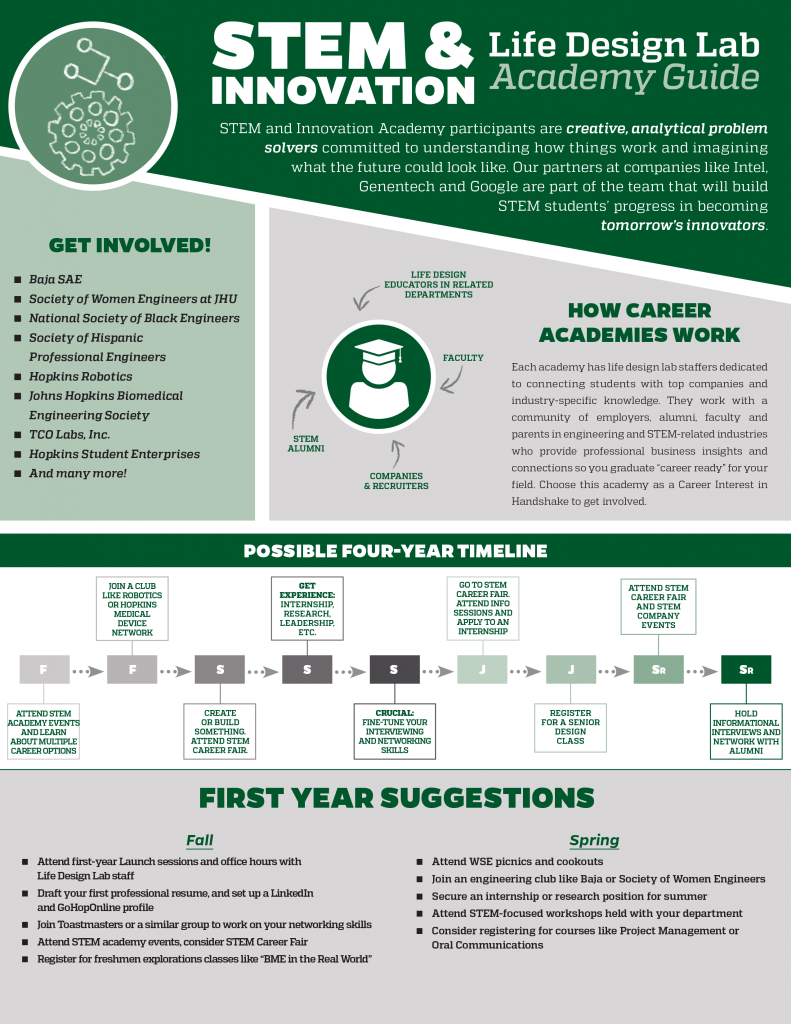 Academy Guides outline suggested industry-centric programming events, clubs, classes, and experiences according to each year of a student's academic career.