Employers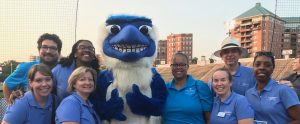 At JHU, career education is integrated into academic life so our students graduate career ready, with deep industry knowledge, internships or employment experience, and a foundation for continued professional success. We work with employers in all industries to connect them with our students, and we're always looking to build new relationships with companies. Use the navigation bar to the left to learn about JHU students, or connect with an Employer Engagement Lead.
Find out what recruiting at Johns Hopkins looks like.
Connect with an Employer & Market Development Team Member
PDF Document: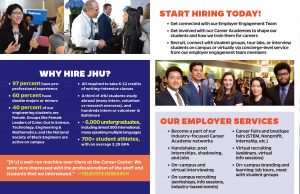 For business or finance recruiting, please reach out to Alayna Hayes.
For consulting or healthcare recruiting, please reach out to David Klindienst.
For nonprofit, government or arts, media, or marketing recruiting: please reach out to Karen Mardock.
For engineering or start-up recruiting, please reach out to Emily Hogan.
For internships, please reach out to Ciara Flowers.
Don't see your industry? Please email us at recruit@jhu.edu and we will be sure to connect you with the appropriate Employer Engagement Lead.