Explore Your Career Interests
Your career journey begins with exploring your personal interests, figuring out how those line up with a major and career academies, and considering different jobs. Each of these tools will help through that process. Every student's first step should be to sign into Handshake, our online career portal. While you may not be ready to apply for jobs, this site will help you find our events, join Career Academies, and access additional resources.
Foundational Career Labs and Major Tools
PDF Document: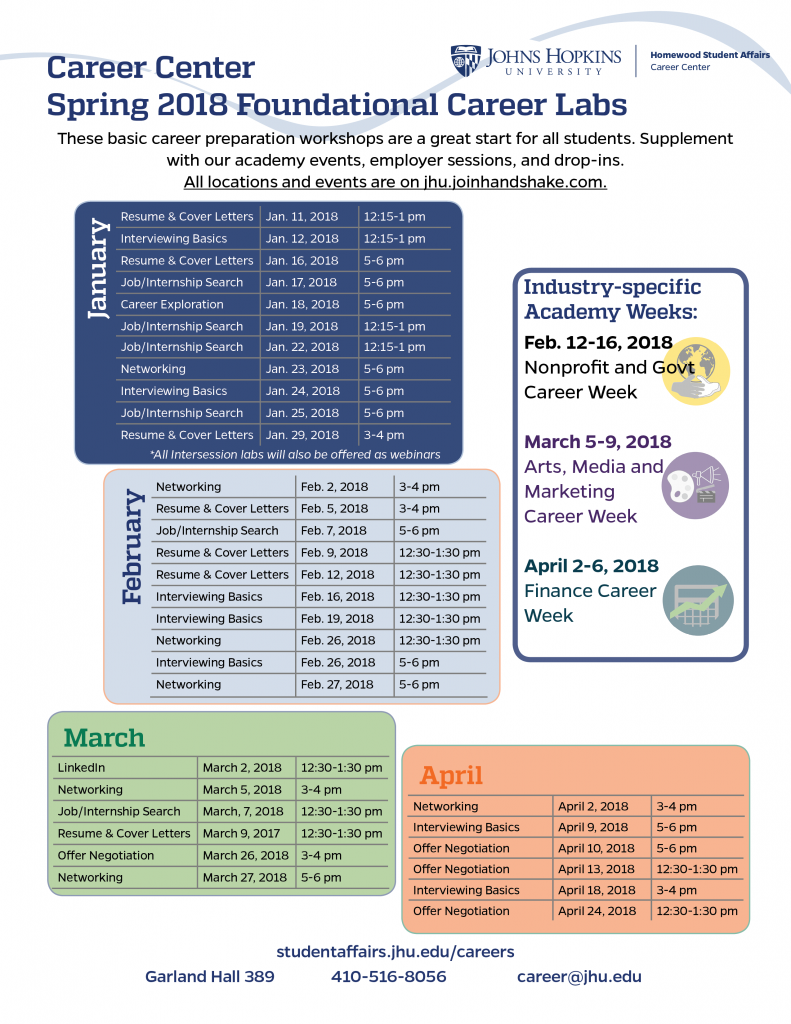 Attend Career Exploration, Resume and Cover Letter, LinkedIn labs and more. These introductory labs are offered regularly throughout the semester on afternoons and evenings, and occasionally on weekends. Please check Handshake for a full schedule and to RSVP–all of the labs are held in Brody Learning Commons 4040, on the B-level. PDF Document: Download the schedule to your right for a full list.
Please note: labs held during intersession will also be offered virtually. Check Handshake for details.
A couple of quick quizzes help you explore your personal interests, skills, personality and values to see what majors, career academies and career paths are the best fit for you. Focus 2 gives you personalized suggested majors industries and jobs to give you direction.
Gain access to career advice from industry professionals, and see it all on video! CandidCareer.com features informational interviews to help you discover and explore your many career options.
An international, country-specific, online system to support relocation, career transition, global job searches & career development as well as alternative opportunities for Johns Hopkins University students.
Research jobs paths, companies, industries and more. Vault has been gathering unbiased, insider information and data about companies, industries and specific jobs for more than 12 years. Users must create a personal account to access Vault.
Wall Street Prep is a global investment banking training firm specializing in financial modeling self-study programs as well as instructor-led and e-learning modeling training. They prepare students and professionals for the demands of investment banking and corporate finance positions. Log-ins will be awarded to students who have demonstrated a commitment to the field of finance through academics, experience, and leadership. Apply for access now.
A site built for all Hopkins students across the nine schools to house additional career resources. While many of these resources are a repeat of what the Homewood Career Center offers, you may want to peruse some of the other free resources available on the planning site.
Additional resources online
Take assessments to find suggested professions or, if you already know the profession you want, read about the education, experiences, and skills you need to attain the career you want.