Class of 2017's First Destination After Johns Hopkins
Posted: April 4, 2018

What does a Johns Hopkins student do with their degree? For the class of 2017, they might be a software development engineer at Amazon, a medical assistant at the Baltimore Neurosurgery and Spine Center, a law student at Georgetown, a 2nd Lieutenant in the U.S. Army, or a data scientist at Accenture. Find out more by looking at the interactive FDS data here.
PDF Document: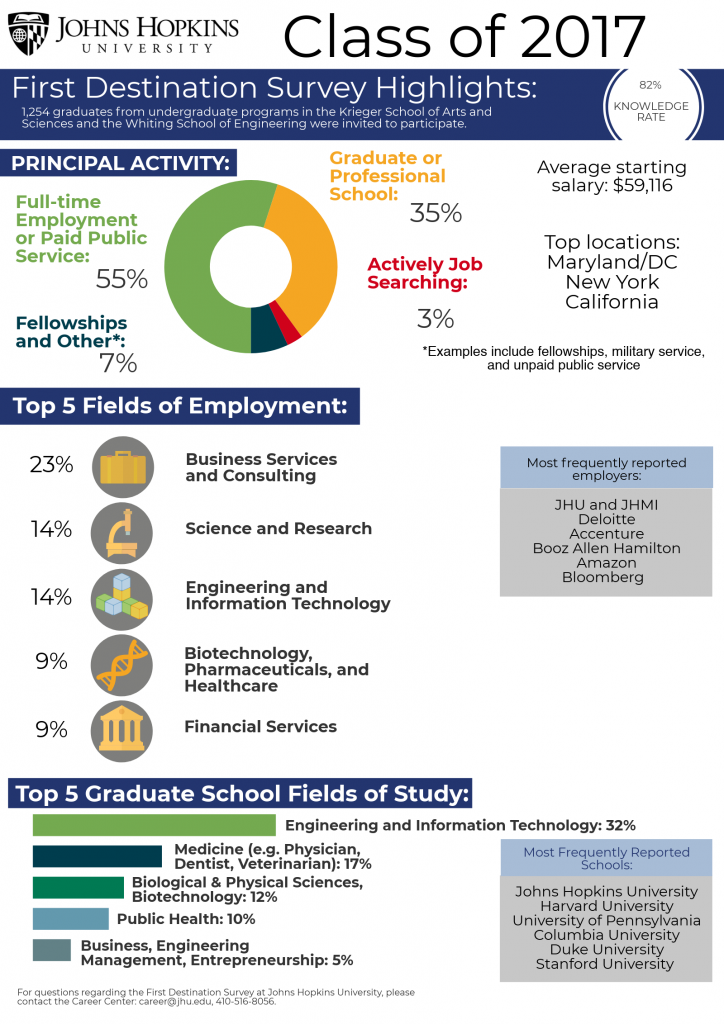 The 2017 First Destination Survey found that 97 percent of the class of 2017 were employed, in graduate school, fellowships, or otherwise engaged. Fifty-five percent of graduates are employed full time or participating in paid public service, while 35 percent are attending graduate or professional school. Only 3 percent are actively job searching, a slight decrease from 5 percent in 2016.
Krieger School of Arts and Sciences students are more likely to go directly into work: 57 percent of KSAS students are employed full time versus 49 percent of Whiting School of Engineering students.
Students from both colleges also earned a higher out-of-college salary in 2017 than in 2016. $59,116 is the average of salaries across the Krieger School of Arts & Sciences and the Whiting School of Engineering, which is an 11.5 percent increase from 2016.
JHU undergraduates' top employment fields continue to be business services and consulting, followed by science and research; engineering and information technology; biotechnology, pharmaceuticals and healthcare; and financial services. Business services and biotech jobs grew slightly this year, while financial services dropped. Top employers include JHU/JHMI, Deloitte, Accenture, Booz Allen Hamilton, Amazon, and Bloomberg.
With one of the highest rates among our Consortium on Financing Higher Education (COFHE) peers of students going directly to graduate school, JHU undergraduates are continuing their education at the following institutions: Johns Hopkins University, Harvard University, University of Pennsylvania, Columbia University, Duke University and Stanford University.
You can interact with our First Destination Data on this website to find out more about where students from all different majors land after graduation.