Find Your Internship at Internship Week
Posted: October 27, 2017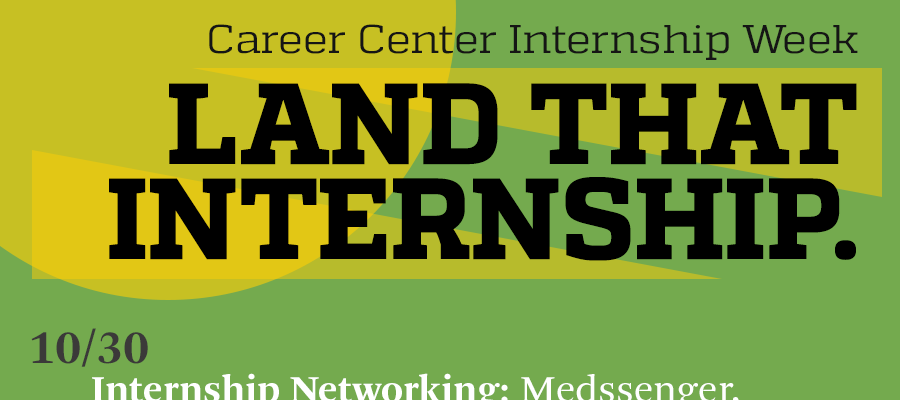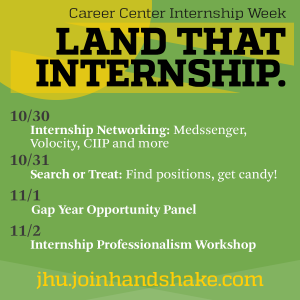 Four days of events to help students find and land internships, including an Internship Info Fair, a Gap Year Experience Panel, internship search help and an internship professionalism workshop. Search "internship week" in Handshake events to find all four.
Oct. 30, 5-7, Charles Commons Barber Room
Stop by this internship fair and learn from companies actively seeking students for internship programs! Employers and programs confirmed to attend: Paragon Bioservices- paragonbioservices.com Medsenger- medssenger.com Volocity- volocity.org/baltimore Tuscany Strategy Consulting- tuscanystrategy.com Center for Social Concern (CIIP)- studentaffairs.jhu.edu/socialconcern/programs/ciip Neat Casual is appropriate attire (i.e. Jeans-no holes; NO athletic wear or flip flops)
Oct. 31, 11-1, Hodson Main Lobby
Don't get SPOOKED by your internship search…stop by Hodson for tips, tricks, and Halloween treats! Career Center staff will be on the 2nd floor lobby of Hodson to offer assistance in finding opportunities and making connections.
Nov. 1, 5 pm-7:30pm,
Want to transform your talents into a "gap year" experience that gives back to the community? Eager to grow personally and professionally from a year of service? The Johns Hopkins University Center for Social Concern in partnership with The Career Center offers the 2017 Public Service Speaker Series: "The Gap Year Experience" to connect you to "bridge year" experiences that make a difference. Panelists to include representatives from: -City Year -JET -PeaceCorps -Teach For America -Venture for America **Refreshments will be served**
Nov. 2, 5-6 pm, Shaffer 300
Are you preparing to go on an internship this summer? Come to the Internship Professionalism Workshop to learn the do's and don'ts of professionalism on the job as an intern. Implement what you learn here and they'll be welcoming you back!