Health Sciences Career Week
Posted: October 27, 2017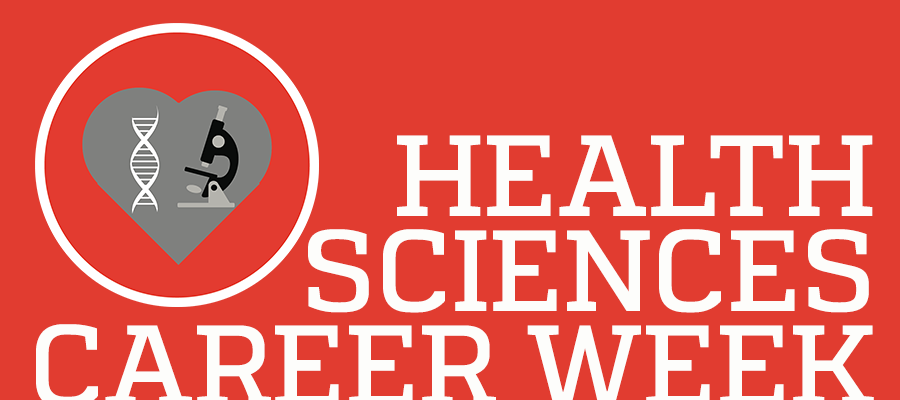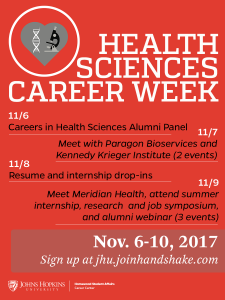 Find internships, get advice from JHU alumni in health-related careers, and meet with Paragon Bioservices, Kennedy Krieger and Meridian Health during Health Sciences Career Week, Nov. 6-10, 2017. Pre-med, pre-dental, pre-nursing, public health, neuroscience, biomedical, biology and other health-focused students are all part of the Health Sciences Career Academy.
Nov. 6, 5:30 pm, Hackerman B17
JHU alumni from the Public Interest Podcast, Inovio Pharmaceuticals, NIH, Monmouth Medical Center and more discuss how they pursued their careers, different options for students, and more.

Nov. 7, 12-1:30, Charles Commons Barbour Room
Meet the Senior VP of Process Development, other senior leaders, and recruiting staff from Paragon Bioservices, a leading provider of biologic services in support of medical & bioscience research and product development. They are actively seeking candidates with the technical skills needed to support the company's core competencies in preclinical and GMP production. Light refreshments will be served.
Nov. 7, 5:30-7 pm, Charles Commons Barbour Room
Learn about the vast array of career opportunities at the Kennedy Krieger Institute, and, at the same time, learn the tips, tricks, and skills to prepare yourself for successful networking and interviewing – with Kennedy Krieger and other employers.
Nov. 8, 11-1, Mudd Hall Cafe
Health Sciences students get specialty, one-on-one advice on how to create a resume that works best for health sciences employers, finding shadowing and internship opportunities, practicing interview skills and more.
Nov. 9, 11-12, Virtual (link on Handshake)
The environment for healthcare is changing, causing businesses within the industry to rethink their approaches and seek new solutions. Please join this upcoming webinar to learn more about three trends that are re-shaping the healthcare industry going forward. Presented by JHU alum Peter Shen, Director of Sales and Consulting at Siemens Healthcare.
Nov. 9, 12-1:30, Charles Commons Barber Room
Learn about career opportunities, both jobs and internships, with one of the country's fastest growing health organizations. Meridian is looking for teammates with a passion for improving the delivery of healthcare. A wide variety of majors, including all health-related, technology, and math subjects, are in demand for their corporate offices Chicago and Detroit. An info session about Meridian will be followed by networking opportunities with company representatives including the VP of Regulatory Compliance and Accreditation, the Director of Population Health Strategies, and the Director of Talent Acquisition.
Nov. 9, 5-8 pm, Charles Commons Salon A
5:00 – 8:00pm — Summer research, internship, and employment fair 5:30pm — STEM panel presentation 6:15pm — Career opportunities panel presentation 7:00pm — STEM panel presentation