Students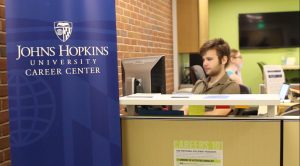 In your first and second year you'll build resume writing and interviewing skills through the Launch program, foundational career labs, and get involved in your Career Academy to build industry knowledge and connections.
By junior and senior year you'll have the opportunity to network with companies and alumni in a field that interests you, apply for internships and experiential learning, and start working toward a successful career.
Your first steps:

Start by logging into our online career portal Handshake today to RSVP to programs, access resources, find internships and jobs. As a sophomore, junior or senior, you can reserve appointments in advance. All students can (and should!) meet with our Career Coaches at drop-in appointments.
Career Academies
Join a Career Academy by selecting your career interests on your Handshake profile. You'll get more targeted newsletters, events, internship postings and more!
Foundational Career Labs
Sign up for one of our short, foundational Career Labs on resumes, cover letters, interviewing, networking and more. PDF Document: See the full schedule here and RSVP on Handshake.