Students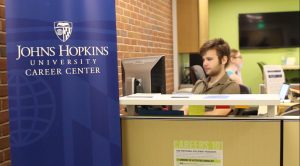 In your first and second year students explore options and build skills. Juniors and senior students network with companies and alumni in target fields, apply for internships and experiential learning, and more.

Start by logging into our online career portal Handshake today to RSVP to programs, access resources, find internships and jobs. As a sophomore, junior or senior, you can reserve appointments in advance. All students can (and should!) meet with our Career Coaches at drop-in appointments.
Get started on the path toward a fulfilling career with our first-year program.
Join a Career Academy by selecting your career interests on your Handshake profile. You'll get more targeted newsletters, events, internship postings and more!
In-person and online tools to help you explore careers that work for you, and start to plan your future. See the full schedule of our Career Labs here and RSVP on Handshake.
The basic skills you need to start applying to shadowing positions, internships, research and jobs.
How to find, prepare for and apply to internships, shadowing, jobs and more. Includes JHU internships and funding and Career Fairs.