Students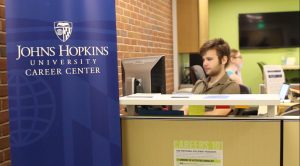 We're your hub for connecting with a powerful community of JHU alumni and employers, from Fortune 500s to fast-growing startups. The Career Center is dedicated to providing tools and services that will help you explore your career interests, realize your career goals and build lifelong professional relationships through career-specific communities called Career Academies.
Handshake
Start by logging into our online career portal Handshake today to RSVP to programs, and find internships and jobs.
Careers 101
Watch Careers 101 to understand the Career Center and our resources, and get basic tutorials on Handshake and Focus 2.
Career Academies
Join a Career Academy by selecting your career interests on your Handshake profile and learn more about ways we are creating career communities to support you!
Foundational Career Labs
Sign up for one of our foundational Career Labs on resumes, cover letters, interviewing, networking and more. PDF Document: See the full schedule here and RSVP on Handshake.