Arts, Media & Marketing
The Arts, Media and Marketing Academy supports thinkers in the arts, media, marketing, entertainment, communications and public relations fields. Students who aspire to work for major media outlets, market new brands or curate museums collaborate with alumni, parents and faculty from companies like Time, Inc., NBC News, and Sotheby's.
Get Started in Arts Media and Marketing
PDF Document: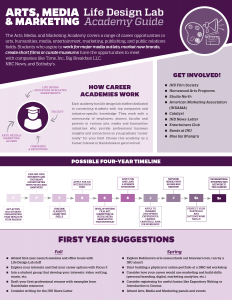 This guide gives you a basic guideline for what you should consider in your freshman, sophomore, junior and senior year to be on track for a fulfilling career in arts, humanities, media, marketing or film. Students should attend AMM events and AMM Career Week, normally held in spring.
Arts, Media and Marketing Staff
Nadine Goldberg, Career Coach
Karen Mardock, Employer Engagement Lead
Who is an AMM Student?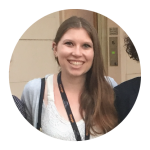 Taylor Veracka
A&S '18
International Studies, Film and Media Studies
"I did a study abroad program in Cannes, and got a better understanding of what I like in a movie. You'd think as a film student entering my senior year, I'd already have a good idea of that, but there is always more to learn!"
Major Spring 2019 Events
Feb. 4-7: Internship Week
March 4-8, 2019: Arts, Media and Marketing Career Week

Find and RSVP for all events on Handshake by searching "arts, media, and marketing" in the events section today.
March 5-9, 2018
Students interested in arts, film, writing, media, marketing and more should start the week off by preparing to network and create opportunities for themselves. Then, attend alumni panels to learn from recent grads about different paths and opportunities that match your dreams.
March 5: Pizza and Career Prep
March 6: Careers around the Museum World Alumni Panel
March 7: Alumni Insights: Film and Entertainment Industry
March 8: Writing and Publishing Careers Alumni Panel
March 9: Alumni Insights: Video Game Industry