Consulting
Consulting Academy participants are critical thinkers who help organizations in government, business, and nonprofit sectors solve problems creatively and to affect real change. Engineering, math, economics, international studies students, and more will connect with professionals from companies like Deloitte, The Advisory Board Company, and KPMG.
Getting Started in Consulting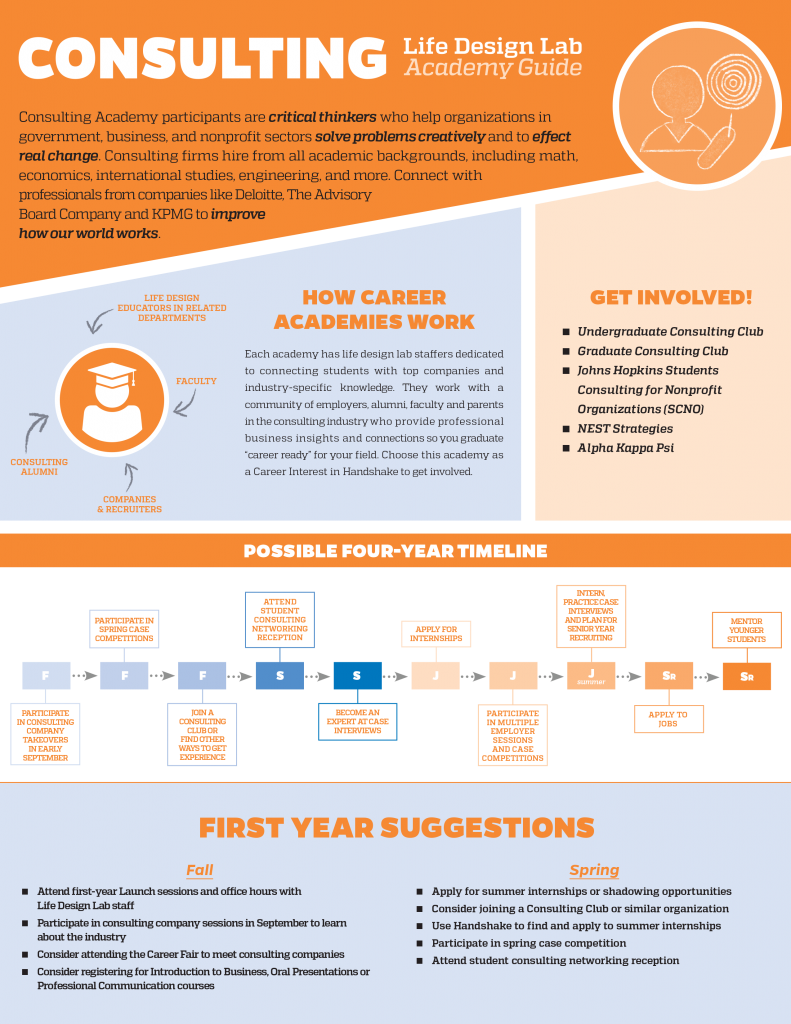 This guide gives you a basic guideline for what you should consider in your freshman, sophomore, junior and senior year to be on track for a fulfilling career in consulting, including healthcare consulting, government consulting, financial consulting and more. Consulting students should expect a more rigid career path than some of their peers: recruiting is heavily in fall for both internships and jobs, and many students have an internship after their sophomore and junior year which leads to a final job offer. The best way to keep up is to attend Consulting Academy events and employer sessions when possible, especially Consulting Career Week, normally held at the beginning of the fall semester. PDF Document: Download the guide here.
Consulting Academy Staff
Caroline Kelly, Student Career Development
David Klindienst, Employer Relations
Major Fall 2018 Events
Early August: Consulting position deadlines begin closing
Sept. 5: Career Labs start
Sept. 10-14: Consulting Career Week
Sept. 10: Multi-company Consulting Meet and Greet
Sept. 11: Bain
Sept. 12: Deloitte
Sept. 13: McKinsey
Sept. 14: Accenture
Pre-Fair Prepare: Sept. 25, 10-2 and 3-7, Glass Pavilion
Fall Career Fair: Sept. 27, 11-3, O'Connor Rec Center
Find and RSVP for all events on Handshake by searching "consulting" in the events section today.
Who is a Consulting Student?

Sophia Way
KSAS '19
Public Health Studies, double minor in Economics and Entrepreneurship & Management
VP of Operations for the Undergraduate Consulting Club
"Leader is not a job title. It's a personality."
Case Questions Interactive Consulting students in particular need to practice case inerterviews, which use role-playing to test how you would handle potential job situations. You'll need to access this resource through Handshake to get the password.
September 10
Multi-company Consulting Meet and Greet
September 11
Bain Day
September 12
Deloitte Day
September 13
McKinsey Day
September 14
Accenture Day