Nonprofit & Government
The Nonprofit and Government Academy is for students committed to issues including policy, security, environmental stewardship, and advocacy through employment with the government or domestic/international nonprofits. This academy hosts two separate Career Weeks, and our network includes professionals from the CIA, Teach for America, Center for American Progress, United Way, think tanks, and more, and helps students navigate complex but worthwhile paths to success.
Getting Started in Nonprofit and Government
PDF Document: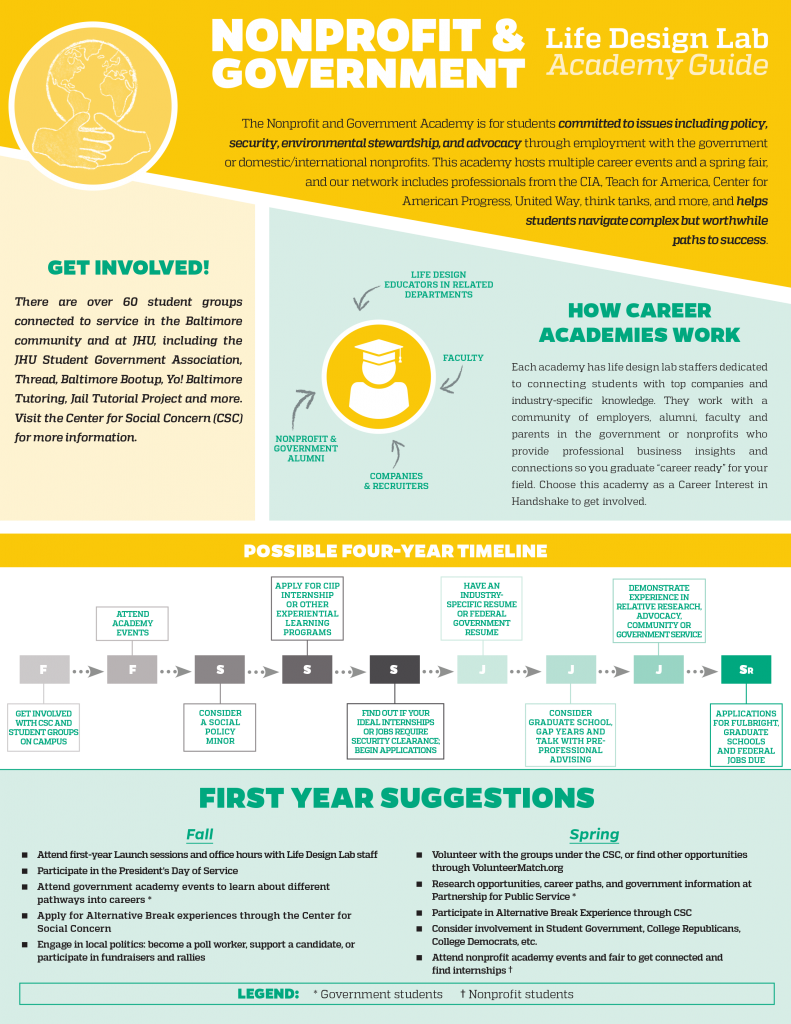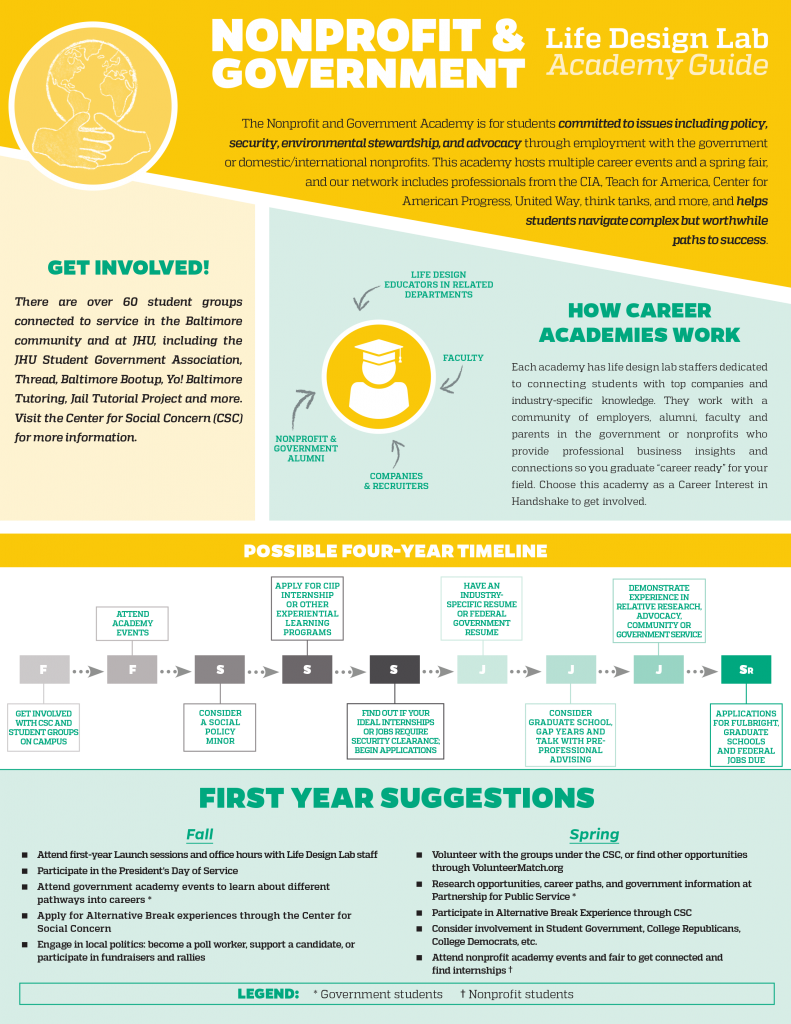 This guide gives you a basic guideline for what you should do in your freshman, sophomore, junior and senior year to be on track for a fulfilling career in federal or state government, nonprofits, community service, advocacy, think tanks and more. Every student's career path will be different, and it's important to realize that students interested in government may want to get involved in their freshman and sophomore years. Students from both sides of this academy will benefit heavily from experience and networking to help get a foot in the door. The best way to keep up is to attend Nonprofit and Government events and employer sessions when possible, especially Career Weeks (two separate events). PDF Document: Download the guide here.
Nonprofit and Government Staff
Tessa McKenzie, Career Coach
Karen Mardock, Employer Engagement Lead
Major Fall 2018 Events
Sept. 5: Career Labs start
Pre-Fair Prepare: Sept. 25, 10-2 and 3-7, Glass Pavilion
Fall Career Fair: Sept. 27, 11-3, O'Connor Rec Center
Oct. 8-12, 2018: Public Service Career Week
International Development Careers Panel, Oct. 8, 3-4:30, Charles Commons Salon A
Local Government Careers and Fostering Effective Discourse, Oct. 9, 5:30-7, Charles Commons Barber Room
Networking Lunch w/ Federal, State and Local Government Employers, Oct. 10, 12-2 pm, Levering Great Hall
CIA Simulation Event, Oct. 10, 2:30-4:30, Garland 389B
Welcome to the Maryland Association of Nonprofit Associations, Oct. 11, 8:30-10, Levering Sherwood Room
Public Policy/International Studies Graduate School Panel, Oct. 12, 10:30-12, Charles Commons Barber Room
President's Day of Service, Oct. 13, 10 a.m.
Nonprofit Week: Feb. 11-14, 2019
Find and RSVP for events on Handshake by searching "nonprofit" in the Events section.
Who is a Nonprofit and Government Student?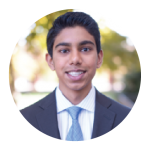 Sonak Kolar
A&S '20
International Studies and Economics
"My primary interests lie in the intersection of the private and public sector, specifically using sustainable and innovative business practices to create a more habitable, equitable earth."