STEM & Innovation
STEM and Innovation Academy participants are creative, analytical problem solvers committed to understanding how things work and imagining what the future could look like. Our partners at companies like Intel, Genentech, and Google are part of the team that will build STEM students' progress in becoming tomorrow's innovators.
PDF Document:

Getting Started in STEM and Innovation
This guide gives you a basic guideline for what you should do in your freshman, sophomore, junior and senior year to be on track for a fulfilling career in medtech, research, computer science, engineering, fintech, startups and more. Every student's career path will be different, but students from all fields will benefit heavily from internships giving you an opportunity to build and solve problems, and networking with alumni and companies to help get a foot in the door. PDF Document: PDF Document: Download the guide here.
STEM and Innovation Staff
Andrea Wiseman, Career Coach
Emily Hogan, Employer Engagement Lead
Who is a STEM and Innovation Student?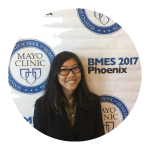 Lizzy Wu
WSE '20
Biomedical Engineering
Lizzy interned at the JHU Applied Physics Lab.
"I worked on projects like starting to devise standardizing testing for effects of shock waves from IEDs (blastover pressure shock) on soldiers, and new methods for helmet safety testing and ballistic impact."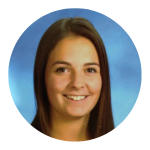 Jackie Lanzaro
WSE '19
Biomedical Engineering
Jackie interned at Stryker's Regulatory Affairs department, where she updated their Ambulance Accident Quality Policy
"It was getting everyone on the same page, which involved creating a new employee training plan for the technicians, marketing resources, even looking at the crash testing data, making sure it's clear what needs to be inspected after an ambulance gets into an accident."
Major Fall 2018 events
Sept. 14-21, 2018: STEM Career Week
Sept. 14: Intro to Entrepreneurship with TCO Labs
Sept. 14-16: Hophacks
Sept. 17: STEM Fair Prepare
Sept. 17: Whiting Alumni Networking Night
Sept. 20: STEM Career Fair, 12-4, Goldfarb Gym. No shorts, t-shirts, or ripped clothing.
Find and RSVP to these events and more on Handshake by searching "stem" in the Events section.
September 14 to 21, 2018
Search STEM in the Handshake events section to sign up.
Intro to Entrepreneurship with TCO Labs
Sept. 14, 2018
FastForwardU Opening
September 14, 2018
HopHacks
September 14-16

STEM Fair Prepare
September 17, 10-2
Levering Great Hall

WSE Alumni Networking Night
Sept. 17, 6-8 pm
Hodson 110
STEM and Innovation Career Fair
Sept. 20, 12-4
Athletic Center
40 employers looking for engineering and STEM students only. More casual, startup-style dress acceptable. No shorts, t-shirts, or ripped clothing. Bring your resume!