Stressbusters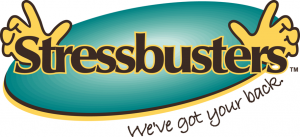 We give good rub! Stressbusters is an incredibly fun and far-reaching community wellness program. It continuously trains and dispatches volunteer teams of students to provide free five-minute backrubs and health information to other students and staff at campus events, residence halls, organization meetings, libraries and wherever else the stressed gather. Stressbusters are community service volunteers working to promote health and wellness on campus.
Meet the Stressbusters Coordinators!
Stressbusters is run by Student Coordinators. Each coordinator fulfills a specific role to help the program run smoothly.
Hello! My name is Sinja Fan and I am the Stressbusters Event Coordinator. I am a sophomore currently majoring in both Medicine, Science, and the Humanities and Economics. I know that is quite a mouthful so I always call my first major MSH, but people don't seem to always know what that is. I basically classify it as premed, but with humanities. I became a Stressbuster during my freshman year and have never looked back. Giving backrubs is an awesome experience and it is especially awesome to hear people thank you after every backrub. I also want to make a dent against the stress culture here at Hopkins. Now, as a coordinator, I get to work behind the scenes as well, getting stressbusters to sign up and give backrubs. However, I am still occasionally seen at the MSE giving out backrubs during Mellow Out Mondays so come out and get destressed!
Hi. I'm Anna Yang, a junior majoring in public health and biology. I am the Administrative Coordinator. I joined Stressbusters as a freshman as a way to help my peers to destress during the weekly events. I am a yoga lover and I often go swimming to relax in my free time. Giving away de-stress kits with play-doh is my favorite outreach event. I give backrubs to my parents and friends during breaks to get feedback to improve my techniques!
Hey! I'm Jocelyn Kim, a junior majoring in psychology and public health and I'm from New Jersey. I am the Outreach Coordinator. The best part of Stressbusters is being able to meet and help others. In such a fast-paced college lifestyle, it is hard to stop and take care of oneself, but as a Stressbuster we encourage the importance of that. Organizing events with dogs is a great plus. I have three dogs, all named after foods. I just discovered "8D audio" and it is a surreal relaxing experience. Try it out with headphones!
Become a JHU Stressbuster
Why should you become a Stressbuster? For all the great benefits!
Learn effective backrub and other stress reduction techniques
Meet and team with other students committed to helping people be healthier
Participate according to your schedule and location
Get experience working on a high-profile health promotion initiative to put on your resume
Be a sought after source of health information
Provide a valuable and wildly appreciated community service
Make a huge difference in someone's day
Have a good time, make friends and relax
How do I get Started?
The requirements are stress-free, the training is for life, and the popularity is instantaneous!
Attend a Stressbusters training session to learn and practice basic backrub techniques
Find out about JHU wellness resources so you can be an info source at Stressbusters events
Participate in four or more campus Stressbusters events over a semester (a commitment of approximately 4 hours)
Bring the Stressbusters to Your Next Event
Schedule a Stressbusters session at your next event, program, meeting or special occasion!
Why Host a Stressbusters Event?
To reduce stress in your organization, office, or residence hall
To show appreciation for staff or students
To have a fun, stress-free program for your organization
To become very popular!
Before You Request an Event
Please complete all fields on the event request form and press "submit" when you are finished. We will respond to your request within approximately one week of your electronic submission. We will make our best effort to honor your Stressbusters event request. Our ability to do so depends on the availability of our volunteer student Stressbusters.
Event Host Responsibilities/Event Requirements
Location
Stressbusters events can be held in quiet locations such as lounges and conference rooms, or in higher-traffic areas including lobbies and walkways. Wherever you would like to locate your event, there must be enough room for several Stressbusters to move around, and for their Stressbustees to have space to enjoy their back rubs in relative peace. You will also need a designated waiting area that is far enough away from Stressbustee chairs to avoid distracting Stressbusters and those receiving back rubs. Additionally, a secure space for Stressbusters' belongings will be needed.
Chairs and Table
You are responsible for providing standard stationery or folding chairs with firm back support; the number of chairs that you will need will be determined by the Stressbusters program coordinators. You will also need to provide a table or countertop for event-related materials and wellness information.
Staffing
You will need to provide a staff person or volunteer to greet backrub recipients, manage the waiting area, call next backrub recipients, provide handouts, etc., if asked to do so by the Stressbusters program or a Stressbusters Event Captain.
Event Promotion
Event hosts are responsible for promoting an event to their constituents. The Stressbusters program can provide event promotion assistance.
Clean-Up
Event hosts are responsible for event clean up and breakdown of any materials or equipment not brought to the event by Stressbusters.
Cost
Not a thing! It's free of charge!
Request an Event
To request a Stressbusters event, please complete the event request form.