Healthy Living
We know that living a healthy life isn't always easy and that it's a bit of a balancing act. CHEW is here to provide tips on how to have a healthy mind, a healthy body, and live better through balance.
Sleep, Eat, Exercise
Do you want to improve your…
Grades?
Attention span?
Productivity?
Self-image?
Health?
You've come to the right place! The Sleep, Eat, Exercise campaign is part of the Johns Hopkins Homewood campus' Healthy Monday program, which uses Monday as the day of the week dedicated to increase health awareness and action. People view Monday as a day for a fresh start and are more likely to starts diets and exercise regimes, quit smoking and schedule doctor's appointments on Monday than any other day. And a Monday start helps them carry out their healthy intentions for the week. It's part of the Healthy Monday movement, a national network of health advocacy organizations, government agencies, hospitals, health and fitness facilities, schools, businesses, and individuals are rallying together to make Monday the start of a healthier life.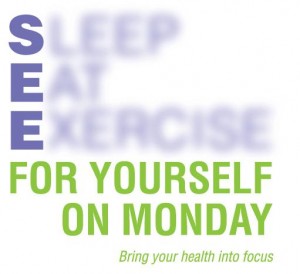 SEE for Yourself
See For Yourself on Monday is one of many health initiatives sponsored by CHEW and was developed specifically for the Homewood campus. The SEE Campaign — "Sleep, Eat, Exercise"— is all about helping JHU students maintain a healthy balance of rest, nutritious eating and exercise that can have a positive influence on performance. Study after study shows that when students keep these actions in balance, they improve their chances for success — now and for years to come. The SEE for Yourself campaign challenges every student to take time out once each week to balance their lives and improve their health! SEE For Yourself!
How it Works
Here's the deal:
Each week, SEE for Yourself will post the Healthy Monday challenge in the daily announcements and CHEW's peer health educators will be somewhere on campus with tips and giveaways.
Challenges range from getting an extra hour of sleep to eating a banana.
You'll see a link to the research that shows how you benefit by participating in the challenge.
Do the challenge, and SEE the difference in your life!
SEE Activities
During the academic year some of the SEE activities include:
Mellow Out Monday
Mellow Out Monday with Stressbusters at the MSE Q level from 8-10 p.m. Persistent stress has been shown to have many negative effects on our health, including: loss of sleep, mood disorders, cardiovascular risks, digestive disorders and decreased immune response which increases susceptibility to colds, flu and other illnesses.
Meatless Monday
Meatless Monday is an international movement to help people reduce their meat consumption by 15%. On average, Americans consume 8 ounces of meat per day — 45% more than the USDA recommends. Going meatless one day a week can reduce the risk of chronic preventable conditions like cancer, cardiovascular disease, diabetes and obesity. It can also help limit people's carbon footprint and save precious resources like fresh water and fossil fuel. Check out featured meatless options at FFC and Nolan's.
Move It Monday
Move It Monday encourages people to start the week by taking the stairs, going to the gym or doing a Monday Mile — and to commit to staying active throughout the week.
Quit and Stay Quit on Monday
Quit and Stay Quit on Monday takes advantage of 52 Mondays every year rather than waiting for an annual event such as New Year's day to try quitting. There are many ways that smokers can use Monday as a day to quit, recommit to their quit, or quit again after a relapse.
Programs
With so many lifestyle changes in college, where does your health fit in!? This interactive program tests where your health stacks up in comparison to the "average" Hopkins student. Get tips to incorporate healthy behaviors into your normal routine to keep your health in balance. From exercise, to sex, to safety, and sleep- this session will help you to be a happier, healthier JHyoU!
Get your mind out of the gutter! This program is all about healthy, natural, whole foods — also known as naked foods! Learn about the benefits of whole foods on your health and the environment, as well as healthy options on campus. Get tips on cooking a featured food with a live cooking demonstration!
To request a program complete the online program request form.
Handy Websites
Nutrition/Healthy Living
Cook Smarts
Cook Smarts contains information on meal planning, guides, infographics and cooking lessons. Designed to educate, inspire, and nourish.
Nutrition Source
Nutrition Source aims to provide timely, evidence-based information on diet and nutrition for clinicians, allied health professionals, and the public. Launched in 2001 by the Department of Nutrition at Harvard T.H. Chan School of Public Health, the Nutrition Source accepts no advertising or commercial sponsorship, nor does it endorse any particular products. Expert faculty from the Department of Nutrition and other invited experts review all content before it is posted on the site, and all content is re-reviewed regularly.
Vegetarian Resource Group
The Vegetarian Resource Group (VRG) is a non-profit organization dedicated to educating the public on vegetarianism and the interrelated issues of health, nutrition, ecology, ethics, and world hunger. In addition to publishing the Vegetarian Journal, VRG produces and sells cookbooks, other books, pamphlets, and article reprints. Health professionals, activists, and educators work with businesses and individuals to bring about healthy changes in your school, workplace, and community. Registered dietitians and physicians aid in the development of nutrition related publications and answer member or media questions about the vegetarian diet. The Vegetarian Resource Group is a non-profit organization. Financial support comes primarily from memberships, contributions, and book sales.
Sleep Management
The National Sleep Foundation is dedicated to improving health and well-being through sleep education and advocacy. Founded in 1990 by the leaders in sleep medicine, NSF is the trusted resource for sleep science, healthy sleep habits, and sleep disorders to medical professionals, patients and the public.
Sleep Education is a sleep information resource funded by the American Academy of Sleep Medicine.
Stress Management
There are several strategies to help identify your stress levels and how to respond in a productive way.
The Calm app is available to all JHU students. New users will need to create an account at calm.com/jhu and follow these steps:

Use an @jhu.edu or @jhmi.edu email to create the account
Click on the confirmation email that is sent to your inbox
Download the Calm app from Apple App store or Google Play, or go to www.calm.com
Log in with the email you used to create the account and Calm Premium will be available for free

Workshops and Groups at the Counseling Center