Closing Information for Winter Break
Posted: December 1, 2017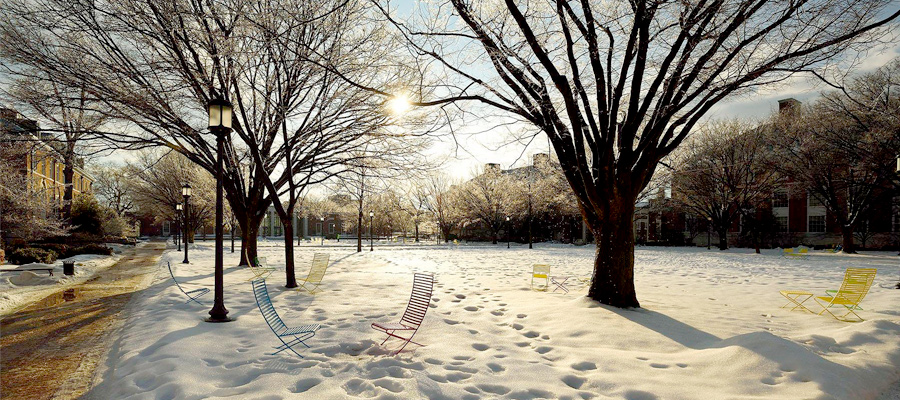 With winter break quickly approaching, we wanted to share some important information as it relates to the residence halls closing for the break:
Residents in AMR I, II, III Buildings A and B, McCoy, Wolman, Rogers House, and Charles Commons should be aware that their residence halls will close for winter break at 10 a.m. on Saturday, December 23, 2017 (or 24 hours after student's last final, whichever occurs first).
The Fresh Food Café (FFC) closes after lunch at 2 p.m. on Friday, December 22 for winter break.
Access cards for students living in these areas will not grant access to the residential buildings for the entirety of winter break.
If returning for Intersession, the residence halls re-open at 12 p.m. on Friday January 5, 2018. FFC will offer a light dinner for meal plan participants from 5–7 p.m. On Saturday, January 6, and Sunday, January 7, the FFC will offer light fare for brunch and dinner to meal plan participants. For the remainder of Intersession, the dining halls will be open with modified hours and service. Refer to Dining Programs for more information.
For residents living in the Homewood or Bradford apartments, there is no "closing" date for winter break. These students may remain in their apartments for the duration of the break.
For all residents, when getting ready to return home or be gone for an extended period of time during winter break or Intersession, please make sure that residential spaces are in tip-top shape! Here are the action items we ask be completed to make sure spaces are clean and ready for Intersession or the spring semester:
Pick up any packages/mail from the mail room
Do some light cleaning
Take out trash
Store food in airtight containers
Clean out refrigerator
Unplug all electrical devices
Set thermostat to lowest setting
Take any important documents/valuable that may be needed during the break
Securely store any important items/valuables not being taken home
Lock all windows and close all blinds
Turn off all lights
Close and lock room and suite doors
For students not taking classes during Intersession, spring semester classes begin on Monday, January 29, 2018, and all dining halls will return to their normal operations.
If you have any question regarding preparation for winter break, please feel free to contact us at 410-516-7960/confirmation@jhu.edu (Wolman Housing Office) or 410-516-8282/incoming@jhu.edu (AMR Housing Office).