Events Calendar
All events on the calendar are open to JHU students regardless of whether or not they are a client of the Counseling Center. Some events are specific to a school or organization (see event for any specific details). Counseling Center drop-in consultations and clinical appointments are not included in the calendar. Any student seeking services or counseling appointments can click here for more information.
Jun
5
Mon
Chat with a Counselor for Bisexual Students

@ Zoom (see signup below)
Jun 5 @ 4:00 pm – 5:00 pm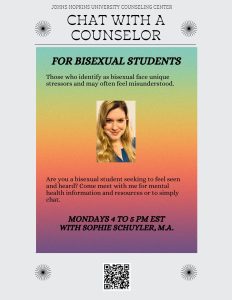 Chat with a Counselor for Bisexual Students is an online drop-in service mental health service that offers informal, confidential, and one-on-one visits for students to meet with a Johns Hopkins University Counseling Center staff member. These hours are open to students who identify as bisexual and want to meet with a counselor who can talk with you about mental health, strategies for managing stress/academics/life, and resources that fit your needs and identities. Sophie Schuyler will be available weekly on Mondays from 4-5pm EST. Sign up to chat with Sophie here.
Chat with a Counselor is not a substitute for counseling and does not constitute mental health treatment. The counselor can listen to specific problems, help explore solutions and introduce you to what it's like to speak with a member of our staff. Anyone with an immediate, urgent or crisis concern should not utilize Chat with a Counselor but instead contact the on-call counselor by calling 410-516-8278 and pressing "1" at any time 24/7. Learn more about the Chat with a Counselor program here.