Outreach Workshops & Programs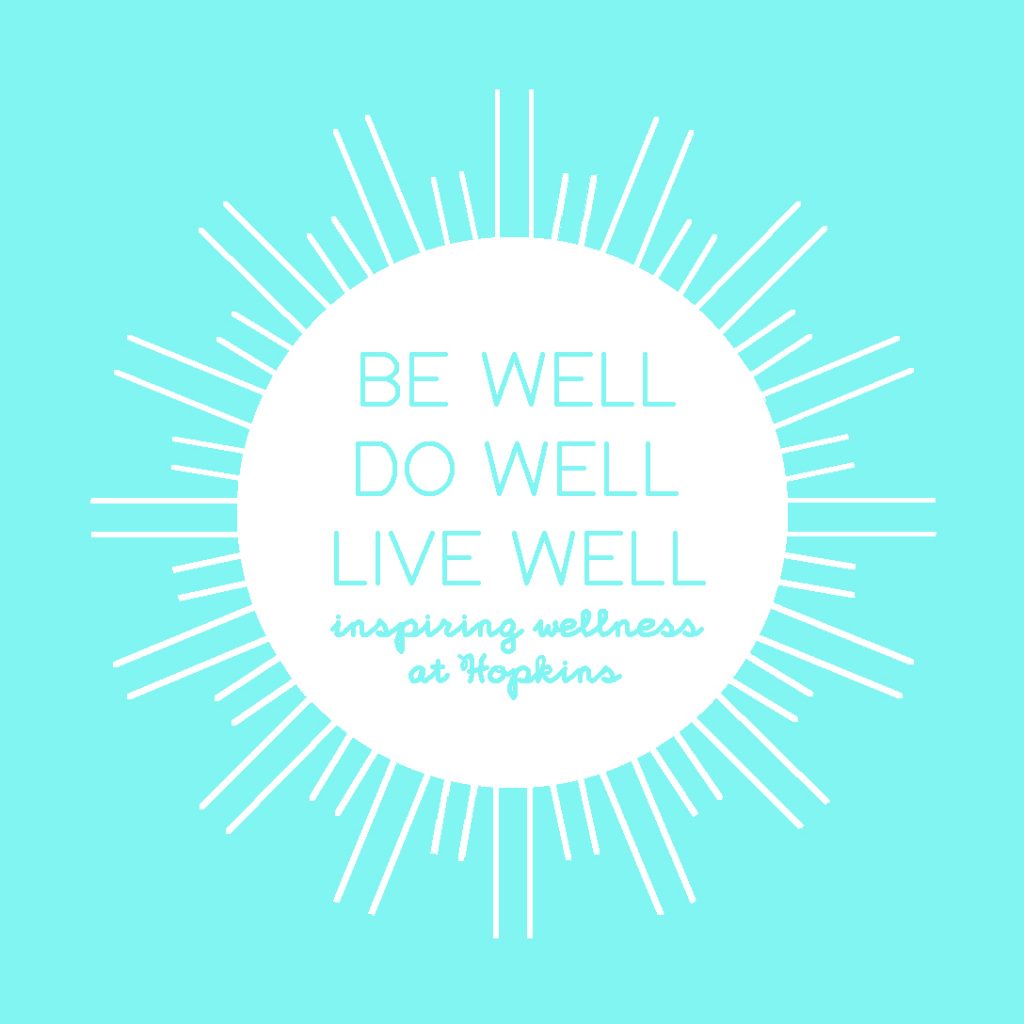 The Counseling Center offers a variety of programs and workshops focused on developing skills or exploring topics that help students to Be Well. Do Well. And Live Well. All workshops are offered free of charge to Homewood and Peabody undergraduate and graduate students.
Strive to Thrive Workshop
Learn skills to help you get out of your head and into your life. Focus on bringing your choices and actions in line with your values. This 3-week workshop can help you better manage your thoughts and emotions and LIVE THE LIFE YOU WANT TO LIVE!
Spring 2018 Semester Schedule:
Tuesdays from 11:15am-12:15pm, Feb. 20, Feb. 27 and March 6
Tuesdays from 5:00-6:00pm, Feb. 27, March 6 and March 13
Thursdays from 5:00-6:00pm, March 1, March 8 and March 15
Tuesdays from 5:00-6:00pm, March 27, April 3 and April 10
Wednesdays from 4:00-5:00pm, April 4, April 11 and April 18
Mindful Living Workshop
This workshop is a 4 week series of 75 minute sessions which offers approaches and skills to help you find more satisfaction in your daily life. Each class is designed to help you learn mindfulness through the practice of specific skills that calm and focus your mind and help you be more present in your daily life. If you are feeling pressured and stressed, or just are interested in learning a new skill that can enrich your life, these classes are for you! Pre-registration is required and students need to be able to attend all 4 sessions.
Spring 2018 Schedule
Fridays from 1:00-2:15 pm, March 2, March 9, March 30, and April 6.
Wednesdays from 4:00-5:15pm, Feb. 21, Feb. 28, March 7, and March 14
Wednesdays 4:00-5:15pm, April 4, April 11, April 18 and April 25
The Anxiety and Stress Management Workshop
The Anxiety and Stress Management Workshop aims to teach you skills and develop tools to better manage your anxiety and stress. You will learn theories about the development of anxiety and how to cope with it. This will include exposure to: relaxation exercises, mindfulness practices, and cognitive restructuring. You will be provided weekly materials which will allow the creation of your own workbook, full of tools and exercises that will be useful throughout your life. The workshop is a 4-week series of 90 minute sessions. Pre-registration is required and students need to be able to attend all 4 sessions.
Spring 2018 Schedule:
Fridays from 3:30-5:00pm, Feb. 23, March 2, March 9 and March 16
Mondays from 3:30-5:00pm, April 9, April 16, April 23, and April 30
IMPROVE: Coping Skills for Managing Distress
Do your emotional reactions feel overwhelming at times, increasing your stress and making it hard for you to cope? Learn emotion regulation and distress tolerance skills that can help you feel more in control. This workshop includes information that will help you to better understand your emotions, how they can be beneficial and how to keep them from taking over your life. This workshop is a 3 week series of 90-minute sessions.
Spring 2018 Schedule:
Thursdays from 4:00-5:30pm, April 5, April 12 and April 19
Yoga as Healing
8-Week Mind/Body Yoga Workshop for survivors of any type of trauma
Experiences of trauma can result in feeling cut off from parts of yourself. Yoga practice can help you reconnect with the disconnected and challenging aspects of yourself and help you gain a sense of mastery over the sensations and feelings that are experienced internally. As a result, you can feel calmer and more grounded.
Each Yoga as Healing session will focus on an intentional theme, encompass various restorative yoga postures, and most importantly facilitate healing off of the yoga mat, in your daily life.
Tuesday evenings from 5-6:30pm for 8 weeks beginning on February 20th. Sessions will be facilitated by a Counseling Center staff member and Nila Berger, E-RYT, a certified trauma-informed yoga instructor.
NO prior yoga experience or special attire are necessary. Mats will be provided.
For more information and to schedule a pre-screen appointment call the Counseling Center at 410-516-8278.
Friday International Student Coffee Break
A time for you to take a break and chat with Dr. Hou from the Counseling Center over a free cup of coffee or tea. Learn about campus resources, discuss tips for academic success and well-being, talk about personal experiences, positive or not-so-positive, or just stop by to say Hi. Feel free to come on your own or bring a friend along with you.
When: 2:30-4:00pm on Fridays, February 16th – May 4th
Who: Undergraduate and Graduate students from Krieger School of Arts and Sciences, Whiting School of Engineering, Peabody Conservatory, and the Post-Baccalaureate Pre-Med program.
Where: Homewood campus, find Dr. Hou at the Daily Grind in the Brody Learning Commons
Contact: Look for the BE WELL, DO WELL, LIVE WELL sign to locate Dr. Hou at the Daily Grind in Brody. Or email Dr. J.M. Hou (jhou15@jhu.edu) to secure a spot in advance.
Friday International Student Coffee Break IS for international students who:
Wish to chat with Dr. Hou individually or in a small group.
Don't feel they need to go to the Counseling Center.
Just need a little consultation.
Are not currently in counseling at the Counseling Center.
Reminder:
If Dr. Hou is speaking with someone, please do not disturb him and wait for your turn. You may also email Dr.Hou to secure a spot for next week.
If you do not find Dr. Hou, he may be speaking with someone in private. Please wait until Dr. Hou returns to the Daily Grind in Brody.
If you want ongoing consultation, counseling, and/or are experiencing intense emotional distress, please contact the Counseling Center at 410-516-8278 immediately for professional assistance.
FREE Mindful Yoga
Take a break in your week!
This class will combine yoga postures, breathing techniques, mindful practices & meditation to help decrease stress & anxiety, increase concentration & improve mental, emotional & physical well-being.
Thursdays 5:00-6:00pm, beginning Feb. 22nd.
Bunting-Meyerhoff Interfaith and Community Service Center, 3509 N. Charles Street. Enter the building on the lower-level (on the right of the building and down the stairs)
Feb. 22nd through May 10. No class the week of Spring Break, March 22nd.
No special attire or yoga experience necessary.
Yoga mats will be provided or bring your own.
Open to all Homewood & Peabody Undergraduate & Graduate Students
Yoga Instructor: Nila Mechali Berger, E-RYT200
Sponsored by the Counseling Center with support from the Dean of Students Office
QPR Suicide Prevention Training
Learn how to recognize the warning signs of suicide and how to intervene effectively to refer someone to help. Question, Persuade and Refer are 3 simple steps everyone can learn to help save a life from suicide.
QPR Gatekeeper Training's for Homewood Staff and Faculty
Spring 2018 Trainings
Monday, March 19th 10:30 until noon, at the Counseling Center, 3303 N. Charles St., Suite S-200
Friday April 13th from 10-11:30am, location: Charles Commons, Salon A
Sign-up on-line to attend a QPR training.
Request a QPR training for your department.
Understanding Procrastination
Procrastination increases STRESS!
This 15 minute video, walks you through the processes underlying procrastination and suggests concrete changes you can make to get things done, sooner rather than later. Start NOW to overcome the habit of putting off until tomorrow what you can do today!
" Emoji artwork is provided by EmojiTwo [https://emojitwo.github.io/], originally released as EmojiOne 2.2 [https://www.emojione.com/] by Ranks.com [http://www.ranks.com/] with contributions from the EmojiTwo community and is licensed under CC-BY 4.0 [https://creativecommons.org/licenses/by/4.0/legalcode]
Request a Workshop or Program for Your Group
The Counseling Center staff provides workshops to various groups on campus on topics related to mental health and wellness. Topics might include: coping with stress, time management, dealing with anxiety, developing a growth mindset, how to be resilient, managing emotions, bouncing back from failure, developing a balanced lifestyle, handling transitions, healthy relationships, body image and many more. If you are interested in a program or workshop for your group, please fill out the
If you have any questions or suggestions about the Counseling Center's outreach programs, please contact Dr.Susan Han at shan75@jhu.edu or 410-516-8278.