Self-Assessments
Below you will find several on-line self-assessment screenings tools. Please click on the assessment to be taken directly to each online assessment website. These screening tools may help provide you important information in the comfort and privacy of your home. If you are interested in speaking with a counselor further about the results of your assessment please contact the Counseling Center to schedule an appointment to meet with a counselor.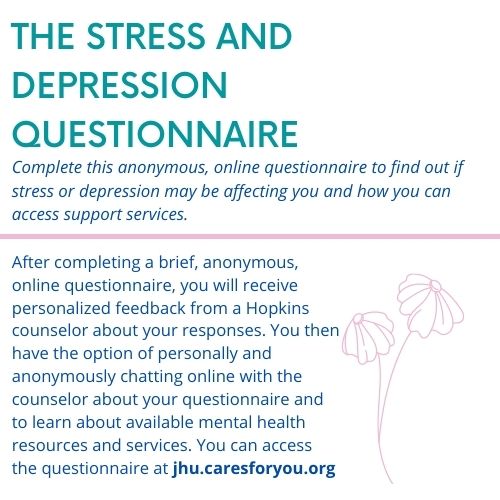 Stress and Depression Questionnaire – This Questionnaire is a confidential, convenient, and safe way to find out how stress and depression may be affecting you, and to learn more about available mental health resources at Johns Hopkins and in the community.
After submitting your anonymous and confidential questionnaire (which takes about 10 to 15 minutes) you will receive personalized feedback within 24 to 48 hours from a Johns Hopkins counselor. You will also have the option to anonymously exchange messages with a counselor to discuss available services and options for treatment. Click here to access the questionnaire or to learn more.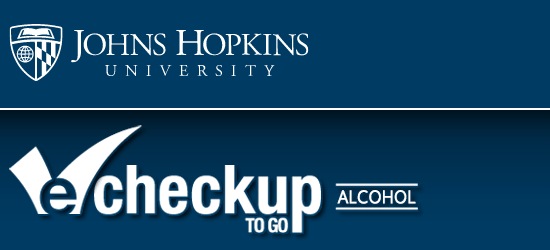 The eCHECKUP TO GO for Alcohol is a brief self-assessment that will provide you with accurate and detailed information about your alcohol consumption including your personal risk patterns, individual level of alcohol tolerance, unique family risk factors, harm reduction strategies, and helpful resources at Johns Hopkins University and the local community.
If you would like to discuss your e-Check-up to Go results, please save a PDF of your personalized feedback and contact the JHU Center for Health Education & Well-Being to schedule a meeting with an educational specialist or the JHU Counseling Center (410-516-8278) to request an appointment with Dr. Fred Gager, alcohol & substance use specialist.