Self-Help Resources
Emotional Adulting Workshops – Information Sheets
The Counseling Center staff offer the Emotional Adulting workshop series, which is a brief, drop-in skills group designed to help you work with your emotions from a space of compassion, awareness, non-judgment, and curiosity. The skills taught in this group, which are generally drawn from mindfulness and trauma symptom management practices, are beneficial for our general emotional well-being as well for helping to manage distress related to depression, anxiety, trauma, and other experiences. Each week focuses on a different practice and topics include Grounding, the Window of Tolerance, Containment, and Calm Place Imagery – the information sheets from the workshops can be found below!
The Emotional Adulting workshops will take place on Mondays from 5:30-5:55pm. Register here.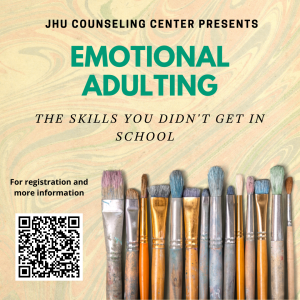 Week 1 PDF Document: Grounding
Week 2 PDF Document: Self-Compassion
Week 3 PDF Document: Working with your Window of Tolerance
Week 4 PDF Document: RAIN
Week 5 PDF Document: Containment
Week 6 PDF Document: Creating Space for Emotions
Week 7 PDF Document: Calm Place Imagery
Week 8 PDF Document: Four Elements of Stress Reduction
(Topics are repeated at the end of the 8-week series).
Additional Self-Help Resources & Fact Sheets
Below you will find a variety of self-help resource for yourself or someone you care about. Feel free to click on the links below for further information.
PDF Document:
PDF Document:

PDF Document:

PDF Document:
PDF Document:

PDF Document:
PDF Document:

PDF Document:
PDF Document:

PDF Document:

PDF Document:


PDF Document:

PDF Document:

PDF Document:


PDF Document:

PDF Document:

PDF Document: