3D Printing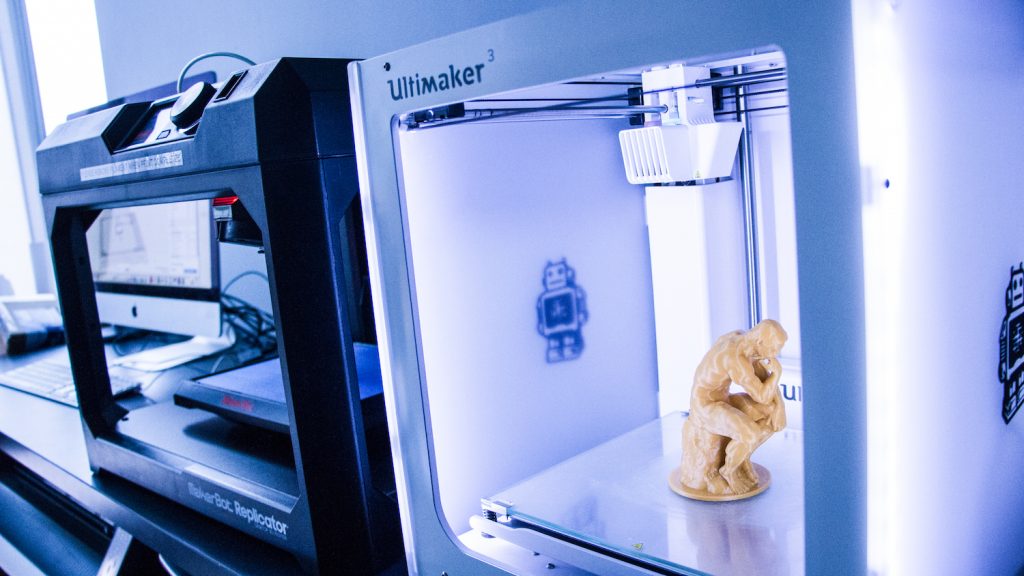 Design and print your own smartphone case! Ornaments! Jewelry! Prototype your widget!
The DMC offers self-service 3D printing on either of our two Makerbot printers: The Replicator (5th Gen) and The Replicator 2X. You must first watch the authorization video and meet with a qualified DMC staff member before you can become authorized to use the printers.
Set up an appointment at the front desk or email digitalmedia@jhu.edu
Replicator (5th Generation)
PLA Plastic only
Single extruder
Min layer height: 100 microns
Max volume: 25.2 x 19.9 x 15 cm
Ultimaker
ABS, PLA, TPU, CPE, Nylon, Wooden-Metal Fill, and PVA (Dissolvable filament)
Dual extruders (can print in two colors/materials)
Heated build-platform
Min layer height: 20-200 microns
Max volume: 21.5 x 21.5 x 20 cm
Pricing*
$1.50/hour – Printing ABS or PLA

$2.50/hour – Printing with dissolvable filament.
*We only accept J-cash for 3D print costs, visit the J-Card Website for details.
Check out the DMC Help Wiki to learn more about 3D Printing
If you are new to 3D printing, you can make an appointment to meet with a member of the 3D Print Team at the DMC to get help with specific projects. Stop by the front desk or give the DMC a call.
Need some inspiration or want to find 3D designs? Thingiverse.com is an online design community where Makers share their ready-to-print 3D designs, for free!
Pokeball (hollow with minimal support material) Weight 74g, Print time 4.5 hours Price $6.75
Teapot (hollow vessel) Weight 11g, Print time: 1 hour Price: $1.50
3D Printer Authorization Video