3D Printing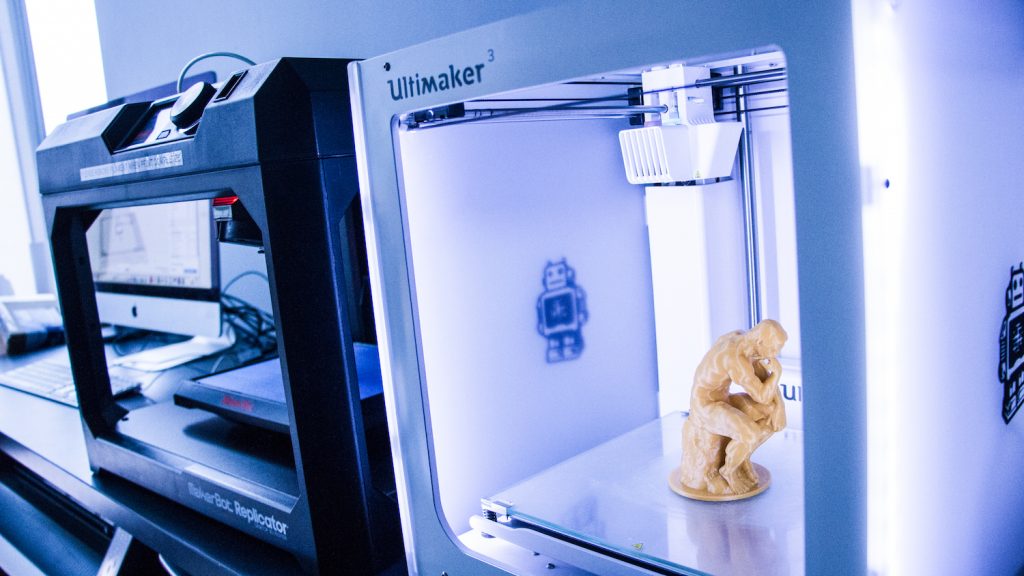 Design and print your own smartphone case! Ornaments! Jewelry! Prototype your widget!
The DMC offers self-service 3D printing on either our Ultimaker 3 or Prusa i3 MK3S printers. You must meet with a qualified DMC staff member, watch a quick video, and do a hands-on demonstration of skills before you can become authorized to reserve the printers.
Set up an appointment at the front desk or email digitalmedia@jhu.edu.
Ultimaker
ABS, PLA, TPU, Nylon, and PVA (dissolvable support filament)
Dual extruders (can print in two colors/materials)
Heated build-platform
Min layer height: 20-200 microns
Max volume: 21.5 x 21.5 x 20 cm
Prusa
PLA and TPU filament
Single extruder head
Heated bed
Max volume: 25 x 21 x 21 cm
Pricing*
$1.50/hr for first 5 hours, $0.75/hr after 5 hours – PLA Filament only (Prusa or Ultimaker Printers)

$2.50/hr for first 5 hours, $1.25/hr after 5 hours – Specialty Filament (TPU, ABS, Nylon, etc.) OR PLA + PVA support filament (Ultimaker only)
*We accept J-cash for 3D print costs, visit the J-Card Website for details. A credit card may also be used, for an additional $1.00 fee.
If you are new to 3D printing, you can make an appointment to meet with a member of the 3D Print Team at the DMC to get help with specific projects. Stop by the front desk or give the DMC a call.
Need some inspiration or want to find 3D designs? Thingiverse.com is an online design community where Makers share their ready-to-print 3D designs, for free!