View from the Nest: "How To"
Posted: February 9, 2017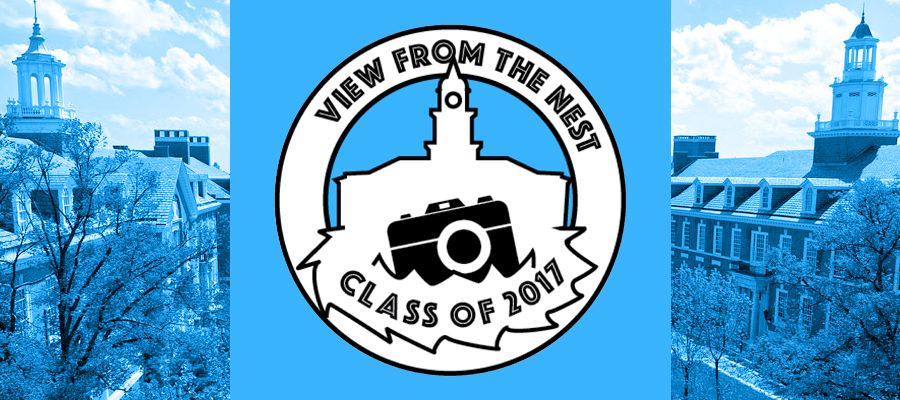 CALLING ALL SENIORS!

View from the Nest is an opportunity for seniors to capture their last semester on campus. This project isa virtual yearbook, open-sourcing footage from seniors to create a video montage that will be shown at graduation.
Using funds from the DMC's Creative Use of Technology Grant, the DMC purchased new GoPros for seniors to borrow to capture a day in the life at Hopkins.
________________
–whether that's a regular day with class, friends, rehearsal, or a special event like a concert, game, or even Spring Fair. You can reserve a camera any day this semester by signing up at this link or following the steps below.

To keep up-to-date with the project and see sneak peeks throughout the semester, like us on Facebook at 'JHU View from the Nest'. If you have any questions, please contact hmelton1@jhu.edu.
Follow the steps below to participate

:
Sign up to reserve a date and camera, click here.
You will receive a confirmation email telling you the date to pick up the camera and length of time that you will be able to borrow the camera for.
After you get the confirmation email come to the DMC on the date specified in the email and become a member (if you are not already). Before taking the camera with you, you must watch the "How to get started" and the "GoPro Authorization videos" (Below.) Keep in mind this process (watching the videos and becoming a member) can take about 15 minutes. Remember that this has to be during our normal hours of operation. Take a look at our homepage to see our hours of operation.
While in the DMC you must sign and submit this video release form to the DMC front desk staff:

PDF Document:

View_from_The_Nest_Video_Release_Form
Once you have become a member and watched the videos you can reserve and borrow the camera.
Go film your "View from the Nest!"
Come back to the DMC within 48 hours.
Once back at the DMC, ask the front desk staff for the View from the Nest external hard drive and a card reader so that you can upload your footage.
Before you upload your footage watch the "How to Upload Your Footage" video below.
Once you have saved your footage on the external return the hard drive, card reader, and camera kit back to the front desk. Keep in mind that uploading and returning the equipment can take about 15 minutes depending on how much footage you have.
After you have returned all the equipment and uploaded your footage you completed your end of the View from the Nest project. The video will then be compiled and edited.
Remember to keep an eye out for the final edit on Commencement and on the DMC website. Thanks for your participation!
How to get started:
GoPro Authorization video:
How to Upload Your Footage:

Tags: jhu, JHU Class 2017, Nest, View, View from the Nest