Hopkins Votes
Upcoming Events
There are no events scheduled at this time. Please check back and follow @HopkinsVotes on Instagram for more updates.
In 2016, 55.8% of eligible Hopkins students voted in the General Election. Now the 2020 elections are around the corner, and Hopkins Votes is continuing our efforts from 2018 to make sure all students who are eligible to vote are equipped with the resources and knowledge they need to make their voices heard! Our efforts last year paid-off, we received the Gold Campus award for our increased voting rate from 2014 to 2018. Let's keep the momentum going and make 2020 even better!
Use this page as a resource for all of your voting needs, and email HopkinsVotes@jhu.edu if you have any questions.
At a moment when democracy is under strain, it is more important than ever that we all use the vital skills and tools—especially the vote—to sustain it.

-Ronald J. Daniels, President, Johns Hopkins University

Register to Vote
The first step to engaging in the democratic process is registering to vote! Luckily, voter registration has never been so easy, thanks to TurboVote! Sign up now to register or update your voter registration information.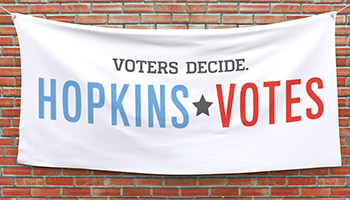 Join the Advisory Council
Faculty and staff are encouraged to apply to serve on the Hopkins Votes Advisory Council for the 2020 election season. Submit your information to serve on behalf of your school or department.

Be a Volunteer
To ensure that all voices at Hopkins are heard, we need your help! Sign up to be a volunteer with Hopkins Votes and we'll contact you with upcoming events and opportunities!
---
---
Latest News
HUB

Students get registered, ready for 2020 elections

Hundreds of students get guidance on how to register, how to submit absentee ballots at event hosted by Center for Social Concern

HUB

Democracy on Decker Quad

Interactive voting booth is part of Center for Social Concern's efforts to raise awareness, get out the vote for midterms

HUB

Students join effort to get out the vote

More than 1,800 people from Hopkins have signed up for TurboVote, an online tool that assists with registration, absentee ballots