Student Organization Funding
The staff in Leadership Engagement & Experiential Development and from around campus are here to support student organizations in their student organization spending. We have a number of resources to help student groups navigate the system, procedures, information, and guidelines to practice good financial stewardship over University/student organization funds. RSO financial stewards should be familiar with the University's financial process and procedures in detail and attend one of the two mandatory Financial Workshops scheduled every academic year. Remember, at least two RSO members must attend the finance training to obtain credit.
The primary financial managers of RSOs are the Treasurer/Finance Officer, President, and Vice/Co-President. However, the main/first RSO finance point of contact is the Treasurer. As RSO finance stewards, you will work extensively with the respective departments' financial and technical staff to handle your group financial transactions. This includes developing budget and fundraising strategies, preparing travel, submitting purchase requests, organizing events, reimbursing expenses, processing payments, and providing any other assistance related to your organization's financial operations.
RSO Finance 101 Recording
Password: 1.D5W07&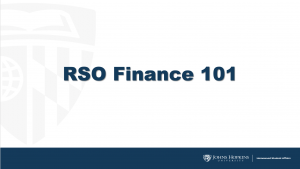 RSO Finance Manual
PDF Document: