Speakers Bureau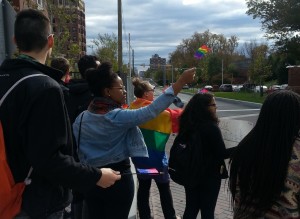 The Speakers Bureau at Hopkins is a unique peer-to-peer educational opportunity. Trained panelists are available to come to your class, organization, or event to share their stories and take your questions. Please email lgbtq@jhu.edu if you are interested in exploring a panel for your group.
Why a Speakers Bureau?
Research shows that knowing at least two LGBTQ people can be a very important factor in reducing bias against our community. It's important to educate heterosexuals about the experiences of LGBT people and the need for allies. For people who have not yet come out, or who are struggling with coming-out issues panelists may serve as role models or resources. We also serve as experts, filling in the gaps in other's knowledge and expertise. We raise awareness.
Panel Format
While formats for particular programs may vary, most panels will follow the same format. The moderator introduces hirself and reads the moderator's introduction, then each speaker briefly tells hir story. Usually, we have 2 – 4 panelists per event. The stories will last about 3 – 4 minutes per panelist. The moderator will open the floor to questions (or collect index cards if questions are written). The whole session lasts between 60 to 90 minutes.