Dale Morrow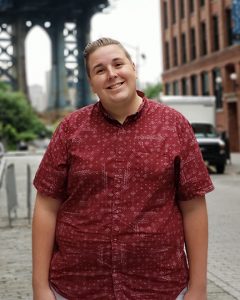 Dale Morrow said that one thing they missed at their last institution was a connection with the LGBTQ community. They joined the OUTlist to find that community at Hopkins.
"What I was most excited about was really putting my name out there and making sure students knew that I could be a resource, a connection point, a mentor – any of those things," Dale said. "They understand that I have a little bit of a better understanding for what's happening in their life or can empathize with them."
Coming from the University of Kansas, Dale said they were surprised to see so many people on the OUTlist. They explained that the LGBTQ community in Lawrence, Kansas, would meet at a bar on Thursday nights for a drag show. This, Dale said, was the only queer thing that happened in the city.
Dale is a residence director for the Office of Residential Life. They stressed that members of the OUTlist are not just students and professors, but are represented across the institution.
"It really shows students that you are represented at this institution, whether it's a faculty member, a staff member, any of those people," Dale said. "You can be whoever you want to be and being queer – holding a marginalized identity – does have its hinderances, but it doesn't always necessarily have to stop you."
Around the time that Dale began to consider new pronouns, the University of Kansas hired a staff member named Ash who identified as nonbinary. They became closer, and after Dale shared that they were considering new pronouns, Ash helped them figure out how to share their gender identity with employers
Dale explained that they want to be a visible leader like Ash was for them.
"If I'd met someone who I was close with who used those pronouns sooner, it would have really changed my whole life, especially in my undergrad," they said. "I want to continue being visible."
Though they mostly work with freshmen and sophomores, Dale has sought other opportunities to engage with more students. They lead the trans and nonbinary meetups hosted by LGBTQ Life, which allows them to see what life is like for trans and nonbinary students on campus.
One student at the meetup was beginning to transition to a new set of pronouns, and Dale said they discussed how to introduce new pronouns in their academic environment.
"Being at Hopkins, it was a department where they did research, it was scientific – it was very much an old men's society, so introducing a new set of pronouns to them might have been difficult," Dale said. "I was able to share the experience of job searching while using new pronouns and making sure that people use the proper pronouns."
Dale said that they began to use they/them pronouns around the time they started to look for a job this past spring. It came down to introducing themselves using their preferred pronouns to every potential employer.
"Even then, the employers still messed it up. They still continuously messed it up," they said. "It is a new frontier that we're trying to get to, where we're introducing pronouns that haven't usually been the standard and incorporating that into people's language."
Friends of nonbinary people should not feel uncomfortable correcting others who use the wrong pronouns, Dale said.
They shared that a friend once corrected an Uber driver who misgendered them, adding that despite the good intentions it wasn't the best time or place. They emphasized that friends of nonbinary people can simply ask to know when it's appropriate to correct others.
"There are definitely cases where I don't necessarily need someone to correct the pronouns being used," Dale said. "When I do have people correct people around me with pronouns, that feels very comforting to me – they do care about me and they do care about who I am."
They added that the most important thing someone can do to support a person who is transitioning is to listen to them.
"I've had several friends transition with pronouns, and the first question that I ask them every single time is, 'When do you want me to start using different pronouns, as well as where and to who?' That's always a very big question, and make sure that when you do ask that question that you do really listen and keep that with you."
Speaking to anyone who might be transitioning, Dale said that it is important to do it on your own terms and not feel pressured by anyone else.
"Figure out how to transition in your own way that feels most genuine to yourself," they said. "It all depends on who you are as a person and what feels right to you. I think that's the biggest thing. Stay genuine to who you are."
Posted November 7, 2018.