Katherine Jones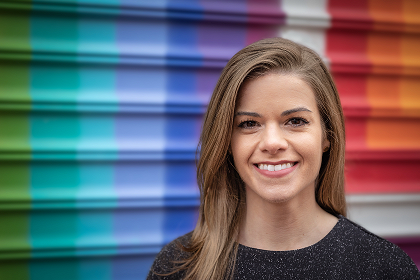 For Katherine Jones, joining the OUTlist was part of navigating her queerness at Hopkins both professionally and personally. She said that it was an important way for her to connect with queer students and find her community on campus.
"As I've become more comfortable with myself and gotten to know myself more and what queerness means to me, I've found that community, for me personally, is everything," she said.
Katherine is a Staff Psychologist and Sexual Assault Specialist at the Counseling Center, where she also coordinates services for Peabody students and serves as co-chair of the Counseling Center Diversity Committee. In addition to supporting survivors of intimate partner violence, sexual violence and other types of trauma, Katherine is committed to providing services for students who belong to marginalized communities such as students of color, immigrants, first-generation college students, students with disabilities and LGBTQ students.
She said that as she began to be more open about her queerness on campus, more students started to request her for their appointments. She said that the diversity of the Counseling Center staff makes it easier for students to work with someone they feel connected to.
"We can always be doing more. We can always increase our diversity for sure, but I do feel really proud," she said. "From our racial and ethnic backgrounds, languages spoken, country of origin, sexual orientation, gender identity, religious identities, and areas of clinical interest, we have a really diverse staff."
Being open with her identity, Katherine added, helps her build rapport with students, even if their experiences aren't exactly the same. "One challenge of working with LGBTQ students, Katherine said, is supporting students who are navigating cultural and family expectations because they often risk experiencing rejection, backlash or abuse."
"Challenges come up in terms of how they navigate family conflict, coming out, connection to and rejection from the LGBTQ community and the social pressure to fit into a box," she said. "I have to check where my own assumptions and biases are in terms of the way I was raised and my beliefs about what we should be able to do in terms of being out as unfortunately we are not all afforded the same level of support and acceptance from our families and communities."
Katherine reflected on her own experience coming out.
She explained that she and her best friend came out to each other at almost the same time. They helped each other find their place in the LGBTQ community and supported one another as they came to understand their identities. She said that it was a unique and special experience to have someone going through the same things at the same time in their life.
"Having someone that was loving, supportive, open, and compassionate was really what I needed because I faced some backlash from people in my life," she said. "To have someone that was just totally accepting was very important and meaningful to me."
Katherine said that while the LGBTQ community can be accepting, it can also be very exclusive. She added that many people feel pressured to fit into binaries within the community.
"That causes a lot of inner turmoil in people that don't really identify into one box," she said. "If you identify as non-binary, pan or bi, for example, there's all these stereotypes and myths about what that means and pressure to choose within the binary."
She added that everyone can work towards ending that exclusivity.
"I hope we'll all be more mindful and check ourselves, our biases, and our assumptions so that we can create more spaces where people can show up as their raw, authentic self," she said. "I hope we can get to a place where we're more accepting of all LGTBQ folks and less judgmental, closing out spaces for people or creating pressure for them to choose a certain label."
In the face of pressure within the community, Katherine encourages students to trust themselves and go at their own pace while coming to understand their queer identities. "It can be scary," she said, "but there's no right or wrong way to be part of the LGBTQ community."
"You're your own unique person, and you might find someone that identifies in a lot of ways as you, but try not to mold yourself too much to what other people's queerness looks like. Be comfortable owning your own and making a path for yourself that feels authentic," she said. "You know yourself better than anyone else, and you have the answers to navigate this journey. It's okay to trust yourself."
Posted February 25, 2019