Michael Falk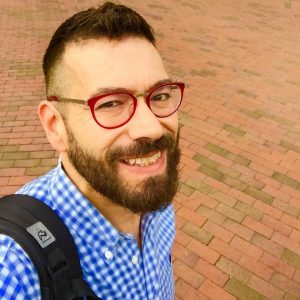 When Michael Falk joined Hopkins as a faculty member ten years ago, he asked his department chair to introduce him to other queer faculty. The request was unexpected, which made him keen to sign up for the OUTlist when it started a few years later. Michael, who also attended Hopkins as an undergraduate, said that being a visible queer leader at Hopkins has personal resonance for him.
"I didn't always feel comfortable being out. I was not out when I was an undergraduate student here. I didn't come out until I was in graduate school," he said. "It certainly was a priority for me to feel like future students should be able to feel more comfortable, for Johns Hopkins to be the place where they come out."
Michael is a professor of Material Science and Engineering and the Vice Dean of Undergraduate Education for the Whiting School of Engineering. He said that as a professor he is constantly called on to act as a mentor, adding that he tries to support the students who look to him even when he doesn't have the answer to their struggles.
"You're not really expect to have the answer," he said. "You're expected to be there for them, and at the end of the day being human isn't fixing things for other people. It's sharing in the fact that you're human too, and you're there to share their humanity and to try to understand as best you can what they're going through and listen to them and let them open up and hear themselves reflected in your voice, in your eyes."
He has also advised both DSAGA and oSTEM. For Michael, representing LGBTQ students and engineering students is very much aligned.
"At the core of our ethos, if we have one, is that everybody gets to be themselves," he said. "LGBTQ people tend to be more cognizant about the fact that we're each travelling our own unique path, and you should try to accept people's paths for what they are. My commitment to LGBTQ students is really a commitment to every student being able to be themselves."
Since the Office of LGBTQ Life opened, Michael said that LGBTQ students have more resources on campus, including more spaces where they can be themselves — a stark contrast to his time as an undergraduate student on campus.
He said that members of the Hopkins community should be comfortable being queer in their daily lives, but added that there's more work to do to reach this goal.
"I think people feel accepted on campus. I think people typically don't feel targeted or at risk, but at the same time I think it's still the case that students still feel they have to find their particular safe spaces in which to be fully themselves," Michael said. "Every space on campus could be a space where you could be fully yourself."
The culture of focusing narrowly on academics at Hopkins can be particularly harmful to LGBTQ students and students in other underrepresented communities, he explained. He noticed this challenge as an undergraduate, and sees the same problem persist on campus today.
He shared the experience of a current student who struggles to balance her time with the group of students in her major who all study together.
"The time she's spending in those cohorts competes with the time she has to spend with the people she feels close and open with," Michael said. "Students should be able to strike a balance there, where they're not spending all their time with their work colleagues and no time with their friends and the people who help nourish their personal growth."
He said that it's critical for students to find people who truly support them, particularly during their time as undergraduates. College students are open to forming deep friendships, Michael said, in unique way.
"It's really critical to spend the time here not just focusing on one's academics and one's advancement but to think, 'Who are the people I can find here — other students, professors, staff, people who are working around me — who can really be someone I can open up to?'" he said. "Take the risk of being truthful with people around you, because that's really where the opportunity for growth comes from."
Posted December 10, 2018.