Sabrina Scarborough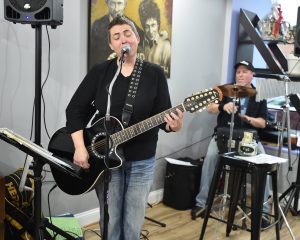 Sabrina Scarborough came out publicly in 1995 while she worked as the director of lesbian services at an AIDS clinic in Washington D.C. She had just left military service under the early days of Don't Ask, Don't Tell, and worked in D.C. for a few years before taking a job at Hopkins in 1997. She came out to her supervisors during the application process.
"It was a different world. You weren't safe to be out everywhere," she said. "Getting hired in '97 as an out lesbian was a really big deal."
Now, Sabrina works as the campus operations manager for the School of Nursing.
Before returning full-time to Baltimore, her home base since 1985, to work at Hopkins, Sabrina was starting to feel burned out. She had been working in lesbian and gay men's health activism at a turning point in the AIDS crisis. Tens of thousands of queer people had died around the country, but early treatments — called "cocktails" after the daily mix of pills that many people with HIV took— meant that a diagnosis was no longer a death sentence.
At the time, queer people faced a lot of barriers to acceptance — sometimes from within the community. She explained that she worked in D.C. for the 1996 pride, which was just called "Gay Pride." They had only just started talking about adding "lesbian" and "bi."
"We were adding lesbian to the name and there was a lot of talk about getting bi added to the name, and there was a lot of pushback," she said. "It was pretty shocking. Trans just wasn't even part of the conversation."
Sabrina considers herself a cross-dresser. She complicated her gender identity:
"I'm as uncomfortable with 'miss' as I am with 'mister,' so it's not like I identify with being a woman," she said. "I come out under the trans umbrella, even though I have no desire to be a man. I feel like the trans community doesn't get a lot of support from the LGBTQ community, so I do it with a sense of solidarity."
She is also a musician, playing rock covers in bars and restaurants all around the state. In Fells Point, where she plays often, she's never had an issue regarding her queerness. In more rural parts of the state, though, she has faced some homophobia — comments about her gender presentation and even slurs. For her, though, music is a way to connect with those people.
"If I'm out in the middle of the country and I hear these things as I walk in, four songs in they're screaming 'Free Bird' and they're loving it," Sabrina said. "They don't realize their hetero privilege. A few songs in they're just loving my music, and they're laughing at me just being so out, because I'm like, 'I don't know if you picked up on the fact that I'm a lesbian when I walked in?' They're laughing at themselves a little bit."
Compared to D.C., the LGBTQ community in Baltimore was never huge, but Sabrina explained it's waned in the last decade or two. Many nightclubs and other centers for queer life have closed down in the city, which Sabrina said may be a result of queerness becoming more mainstream and queer people feeling more welcome everywhere.
During her more than 20 years at Hopkins, Sabrina has seen the university's culture become more accepting.
Around the time she was first hired, Hopkins had just started offering domestic partner insurance for same-sex partners. However, Sabrina explained that her insurance would have gone up by $350 a month had she added her girlfriend at the time because of a federal tax regulation that Hopkins was unwilling to cover at the time. This, she said, is an example of privilege that she's seen at Hopkins.
Sabrina has sought ways to give back to the LGBTQ community here — including signing up for the OUTlist and co-facilitating Safe Zone trainings hosted by LGBTQ Life.
"Those workshops reach a lot of people that we would never reach any other way. There are people that just don't know a lot of people who are LGBTQ," Sabrina said. "I've always assumed that we all know someone, because I know so many. Pretty much everyone I know is under the umbrella somewhere."
In addition to co-facilitating Safe Zone trainings and leading trans awareness workshops, Sabrina said she tries to open conversations about diversity even in her day-to-day. She signed up for the OUTlist so that others would know that they could reach out to her with questions or if they just need support.
"It was really important for me to be on there in case there was anyone in the East Baltimore campus that needed someone to talk to," she said. "I've been here for a long time, and seeing the little steps we've taken — the OUTlist came before LGBTQ Life, so joining, if I could offer some assistance to someone, was important."
She added that the Safe Zone trainings have informed her message to people who might still be figuring out their identity:
"Be safe, don't be dumb. I say that in the Safe Zone trainings a lot and I think it's important when we're talking about allies, too. Don't put yourself in a dangerous position or dangerous situation, but at the same time be who you are and be true to yourself," she said. "You owe it to yourself to be who you are and be strong in who you are and live your life."
Posted April 24, 2019.