Toni Blackwell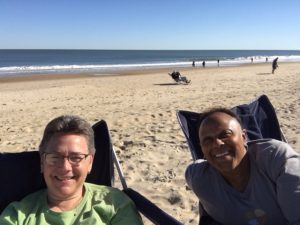 For Senior Associate Dean of Students, Toni Blackwell, joining the OUTlist was an important way to proudly represent her identity. While queerness is part of who she is, Dean Blackwell said others often assume she is straight and cis — until she coolly slips a mention of her wife into conversation. She doesn't do it to make a point.
"I am at a place in my life now — and probably have been for the last 20 years — that it's just natural. It's part of who I am," she said. "I really want individuals I interact with to understand my experience, and I understand that their experience might not be the same as mine."
Rather than forming their own idea of who she is based on what they see, she wants others to be open to all the possibilities. Toni said she wouldn't want to work in a job that asked her to hide part of herself — from job interviews to chatting with students, she doesn't hesitate to clarify her sexuality when it comes up.
She connected that openness to her years growing up in the Bronx, where she frequented the Baptist church. While the minister preached hate towards the LGBTQ community, the queer members of the congregation took her in and showed her how to reconcile her queer identity and her faith.
"Because they were so open, and it didn't seem like they had a particular agenda as to who I was as a human being, I could just be me," Toni said. "I try to come from a more spiritual place in terms of kindness to people no matter who they are. I may not always agree with you, but that doesn't mean I'm going to disrespect you as a human being."
Moving from Massachusetts to Baltimore — which she calls part of the South — Toni braced herself to face more casual sexism and racism. She said she's more conscious about being out with her wife than she was up North as they are an interracial couple. On the whole, she's been pleasantly surprised — although she didn't expect strangers to chat with her in the grocery store checkout line.
"I answered back and then I turned around, looked at my wife and said, 'Do I know them?' And then realized — oh, this is what we do," she recounted with a chuckle. "Now I might even be the one to start a conversation in the grocery store."
When learning to navigate queerness in different environments, Toni emphasized that leaning on others helped form her expectations. Tossing around the idea of an eventual move three states further down to South Carolina, she has connected with friends in the area to understand how life there might be different for her and her wife. When those friends don't know the full picture, they can connect her to others with different experiences.
This links back to Toni's reason for joining the OUTlist in the first place — students want to hear from a senior staff member about how she has navigated her queerness through her life and career.
"I try to be as out as I can to make sure students see that there are role models out there," she said.
She often attends events where students can get to know her and her wife a bit better. Connecting with students is important for Toni on many levels — at its core, her work focuses on supporting students' success. She also hopes that as a queer woman of color she can increase the intersectional representation students see.
Given her experience in diversity development, though, Toni emphasized that the burden cannot be placed solely on those people with marginalized identities to educate others.
"Other people who may not share those identities — they need to do some work," she said. On the other hand, she added, "For people who really don't know, but do want to get to know you, who you are and how you negotiate the world, have some grace."
Here, she said, she's thinking specifically about pronouns. While many people, particularly from older generations, can struggle to wrap their head around pronouns outside the typical binary of 'he' and 'she,' Toni said it's important to give them space to keep getting better. To those people who may feel frustrated with learning pronouns, she has one question:
"Do you keep trying? Because that's the important part. By trying, in my mind, you're showing individuals that you're aware," she said. "If you're just like, 'I can't learn that,' then individuals are thinking that you're not seeing them and that you're shutting them out."
In terms of knowing when to represent queerness, safety is probably the most important factor for Toni.
"We still live in a place unfortunately where people have crazy ideas about LGBTQIA individuals — some people have a really hard time seeing them as individuals," she said. "Being open is important, especially if you feel safe. I hope that individuals find places where they feel safe and they can be their true selves."
For Dean Blackwell, a big part of her engagement with students is making sure they feel safe and supported during their academic careers. While most Hopkins students plan to be in and out in four years, she said, plans can change unexpectedly, and students can turn to her for support through those changes.
"Life happens, and sometimes you have to get off the road and take some time, and that doesn't mean you're any less," she said. "You can always come and get back on the road, and what I see my work doing is helping you get back on the road, whatever that road is."
Posted November 19, 2019