Employers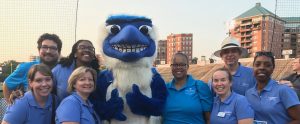 Our Life Design staff work with companies to create personalized plans for engaging with students in person and virtually. At Homewood, career education is integrated into academic life so our students graduate career-ready, with deep industry knowledge, internships or employment experience, and a foundation for continued professional success. We work with employers in all industries to connect them with our students, and we're always looking to build new relationships with companies.
Why Hire JHU
Our students are top-notch, confident, and dedicated. They are engaged in studies from art history to biomedical engineering, mathematics to sociology, and enrolled in bachelor's, masters and PhD programs. Learn more about our students.
Recruiting at Johns Hopkins Homewood Campus
Join us for career fairs, boutique fairs, for info sessions and brand building on campus, student treks to your company, interview and more. See the full list of options.
Connect with an Employer & Market Development Team Member
Our staff is nested within academic departments in the Whiting School of Engineering and Krieger School of Arts and Sciences. This gives employers a better, more direct connection with students.
Employer liaisons
Don't see your industry? Please email us at homewood.recruit@jhu.edu and we will be sure to connect you with the appropriate staff member.
Internship Programs and Funding
This 10-week, subsidized internship program from the Life Design Lab will bring talented students into local businesses and community organizations at no cost to the employer. Deadlines for employers begin in early spring. Employers will be able to interview and choose a student, who will receive an internship preparation orientation from our staff. Contact Ciara Flowers for more information.
Administered by UMBC and funded by the State of Maryland, the program offers financial assistance to technology-based businesses, as well as state and local agencies, to hire more interns.
Host a Jay
Johns Hopkins alumni have the unique opportunity to invite second-year students to explore career options and refine their interests. Alumni can sign up to host a student for 2-3 days during intersession, and share their expertise. Contact Ciara Flowers for more information.
Employer Guidelines
Read our timelines, recruiting deadlines, and rules for employers.