Employers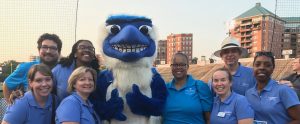 Our Life Design staff work with companies to create personalized plans for engaging with students in person and virtually. At Homewood, career education is integrated into academic life so our students graduate career-ready, with deep industry knowledge, internships or employment experience, and a foundation for continued professional success. We work with employers in all industries to connect them with our students, and we're always looking to build new relationships with companies.
Why Hire JHU
Our students are top-notch, confident, and dedicated. They are engaged in studies from art history to biomedical engineering, mathematics to sociology, and enrolled in bachelor's, masters and PhD programs. Learn more about our students.
Recruiting at Johns Hopkins Homewood Campus
Join us for career fairs, boutique fairs, for info sessions and brand building on campus, student treks to your company, interview and more. See the full list of options.
Engagement Options for Fall 2021 at the JHU Life Design Lab at Homewood:
Virtual Campus Recruiting Day on Brazen: Design your own virtual recruiting day! Pick a fall date and two-three engagements (Workshops, Coffee Chats, and or Information Sessions) of your choice. You will still be able to host your sessions on your own virtual platforms. On our end, we will help set you up on the Brazen platform with a booth which will serve as a place where you can house your agenda with all your event links for that day in one place. You also will receive a booth to use before and or after, to host your 1:1 virtual chat with our students via text, video or both. Customize your booth to your preference, include resources and marketing collateral for students to view before the day of the event. Once you are all set-up for your day, our educators will work to advertise your event throughout our communication channels. This option is best if you are looking to host your events in one day and virtually connect with students 1:1 in some part of your virtual event. (Employers who participate in this engagement option are expected to participate JHU Future Fest at Homewood for fall 2021)
Create & promote your event with us: Virtual Workshops, Information Sessions, Coffee Chats: If you would like to host a virtual session of your own choice, please let us know, we will help you request and create an event post on Handshake and ensure your post gets maximum visibility.
Be a Guest in One of our Life Design Educators Programming: Participate in one of our Life Design Educators fall programming.
Promote your existing event: Already have an existing event taking place? Will connect you with our educators to help promote your event and drive students to your event.
Collaborate with a Student Club: Our educators can help you connect with a variety of student clubs and organizations. Employers are also invited to attend the Student Organization Showcase on 10/6 at the JHU Future Fest.
Virtual Campus Interviews: Have an opportunity that may be of interest to our undergraduate students at the Homewood Campus? Want to recruit JHU undergraduate talent? We can help promote your opportunity and help coordinate your virtual interviews on Handshake.
Ready to make your request:
Get connected to your Life Design Educator and strategize your next engagement for this fall. Email Homewood.recruit@jhu.edu to make your request.
Connect with an Employer & Market Development Team Member
Our staff is nested within academic departments in the Whiting School of Engineering and Krieger School of Arts and Sciences. This gives employers a better, more direct connection with students.
Employer liaisons
Don't see your industry? Please email us at homewood.recruit@jhu.edu and we will be sure to connect you with the appropriate staff member.
Internship Programs and Funding
This 10-week, subsidized internship program from the Life Design Lab will bring talented students into local businesses and community organizations at no cost to the employer. Deadlines for employers begin in early spring. Employers will be able to interview and choose a student, who will receive an internship preparation orientation from our staff. Contact Ciara Flowers for more information.
Administered by UMBC and funded by the State of Maryland, the program offers financial assistance to technology-based businesses, as well as state and local agencies, to hire more interns.
Host a Jay
Johns Hopkins alumni have the unique opportunity to invite second-year students to explore career options and refine their interests. Alumni can sign up to host a student for 2-3 days during intersession, and share their expertise. Contact Ciara Flowers for more information.
Employer Guidelines
Read our timelines, recruiting deadlines, and rules for employers.