College Graduation: A Reflection
Posted: May 21, 2020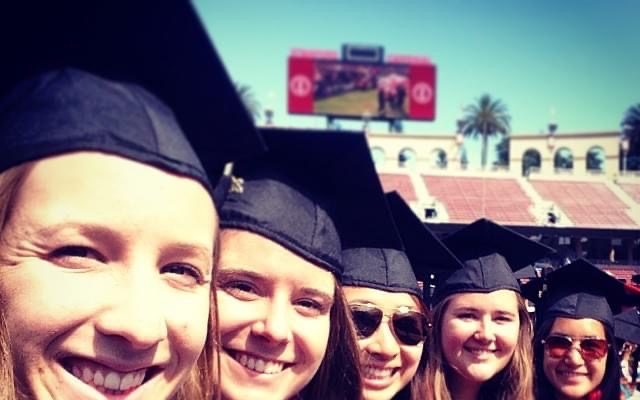 By Hope Burke, Life Design Educator Student Leadership and Involvement
I Have A Plan!
I like what is definitive. Black and white. Right and wrong. Clear boxes for me to perform well within. And in my 20-year-old box of a mind, I was more than ready to become a teacher. That was the logical and correct next step after earning a bachelor's degree. That was how I would make meaning in my life. Never mind the fact that I had not taken a single education class in college or that I had only shadowed a few teachers in their classroom element.
I HAD watched my mom teach French and English for most of my childhood; I HAD pretended to write up progress reports for my dolls every semester alongside my mother; I HAD excelled in traditional classrooms where rote memorization and writing a well-constructed five-paragraph essay earned you an A; I HAD been told my whole entire life that I could do whatever it was that I wanted to do. So when people asked me what I wanted to do once I graduated from one of the most prestigious universities in America, I smiled and said, "I want to become a high school teacher!"
I scoured the internet and talked to campus representatives about the requirements to join Teach for America, decided to apply early decision during my junior year, and crossed every "T" and dotted every "I" during the interview process until I received the illustrious email that I had earned entrance to Teach for America. A full year before I was set to graduate from college. Well done, Hope.
Pre-Graduation Jitters
A year later, campus whizzed past my window as I sat in the backseat of a rental car on graduation weekend. My dad adhered to every stop sign and crosswalk, careful not to inadvertently take out a biker before one of the most momentous occasions of their life. Funny since he's actually the worst driver in the world and has handed my life on a silver platter to oncoming traffic more times than I can count. I was playing a game with myself – I held my breath for the length of each curb and exhaled for the small bit before another solid line of concrete came into view.
"Did you ever consider talking to an advisor in the career center?"
"No, Dad. I have never even heard from the career center."
"I just worry that you haven't explored all of your options. I think you would do so well in sales – you've got the knack for building relationships."
I muttered a measly "mmhmm" and watched my stepmother shoot my dad a "quiet down" look. My mind went into overdrive. Have I made a huge mistake? What if there is a "better" job for me? What if I made the "wrong" decision? Oh god – what if I am actually wrong about myself and my whole entire life? How do you recover from something like this? Should I back out of Teach for America? How WILL I survive in Baltimore – a city I have NEVER even been to? All of my friends are doing such cool things after graduation – I don't measure up.
Graduation Day
Luckily, the whirlwind of graduation festivities started early the next morning and helped to soothe my anxieties. Bill and Melinda Gates told me, and the rest of my graduating class, that the world was ours to change. I smiled broadly at my department ceremonies as I received my diploma. When I opened it, I learned I had graduated with honors and departmental distinction. Another well done, Hope.
I threw my arms around my best friends during a sunset soaked dinner in the hills of the Bay Area. I even ran into the one person I had a crush on from afar all throughout college and he gave me a hug goodbye and best wishes for the next chapter of my life. How serendipitous! And, despite all the beauty and love and joy surrounding me on the most picturesque graduation day ever, that night, in my dorm room, I cried myself to sleep. My brother, who crammed his lanky body onto my living room couch, texted me, "I can hear you crying. Are you okay?" I didn't even text him back. How do you respond to a question that has such an unclear answer?
It seemed so cruel to have to leave campus housing the very next morning after graduation. It's as if the entire university was saying, "thanks for everything, but you've had your four years." Nice. At least I had a destination thousands of miles away – Baltimore was waiting so we could begin my 6 weeks of preparation to become a high school English teacher.
I don't remember how I spent the 5-hour plane ride, but I know I felt uneasy and confused at how I was now somehow an adult tasked with taking on a full-time job, moving into a new apartment, and working to understand an entirely new ecosystem. After my entire family wrangled 10+ suitcases, everything I had to remind me of my old college life, from the conveyor belt at Baltimore-Washington International Airport, we shuttled to the long-term parking lot where my dad had lovingly left my high school car that would continue to transport me around my new city. I helped load certain pieces of luggage into my trunk, avoiding eye contact with everyone. Could I really do this?
After hugging every person in my blended family tightly – dang, I love these people – I got into the car and followed the GPS to 95 North. I immediately burst into tears. The weight of my aloneness swallowed me. My family was driving back to Pennsylvania, my college friends had dispersed around the country, and I was driving into the complete unknown.
Into The Unknown
I was literally driving toward a stranger's home to sleep on the couch before starting Teach for America the next morning, but I was also driving toward a job that did not guarantee my success, toward a city that couldn't seem to shake off its perpetually tarnished reputation, toward an apartment with someone I barely knew, toward a life with almost none of the parameters shaded in. Basically, this was my type-A personality's worst nightmare.
My GPS instructed me to take the exit toward downtown. I flipped my turn signal on and checked my mirror with tear-filled eyes. Yet, as I rounded the ramp, a glimmer of hope also flicked within me. The entire Baltimore skyline stood before me, brightening the night sky. There was M&T Bank Stadium and the Domino Sugar sign.
I snaked my way on Conway and President Streets toward what I later learned was the Fell's Point neighborhood, a neighborhood I would move into three years later with 3 close friends I made during my time teaching in Baltimore. As I passed the Inner Harbor, I finally smiled. Despite this being one of the most terrifying moments of my life, it was also filled with anticipation and the possibility of everything to come.
Reflection
If I had known then that I would land a teaching position at a historic high school in northwest Baltimore with several TFA alumni, administrators, and students who would fiercely love and coach me to be the best first and second-year teacher I could be, or that I would find and join a community that loved playing and coaching field hockey as much as me, or that I would come to love Baltimore because of its complexity rather than in spite of it, I might have felt that this cross-country move was more than worthwhile.
But, because we have to be brave enough to stand in the present moments as they come, I only knew then that the glimmers of hope and determination in my heart were enough to open my mind to the possibility of what this new chapter could be. I had gathered data from my childhood and college experiences, which pointed me in the direction of becoming an educator. Now, the next "best" or "right" move was to honor my initial plan and just let my story unfold.
Congratulations Class of 2020!
Connect with fellow alumni on PeopleGrove.
Be sure to check in on the Hopkins Alumni Site for all networking events and benefits.
Register an external email on Handshake to stay connected!