Future Fest 2020 Information Tent
Posted: September 22, 2020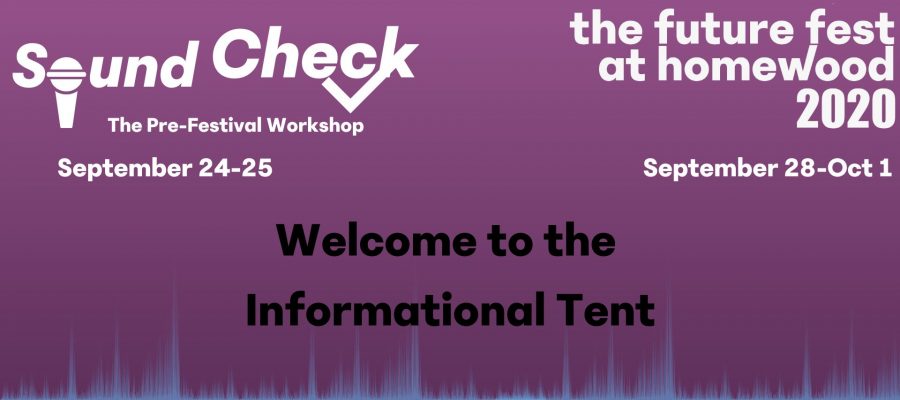 Welcome to the information tent for Future Fest 2020. Here you can find the complete calendar for each day, helpful tips, Zoom links, all in one place! We will be constantly updating this with information and news as we get closer to the Future Fest.
Additionally, head to jhufuturefest.com for more.
Soundcheck September 24th and 25th (All Day): Register for two days of pre-festival workshops to get ready for the Future Festival!
TRADE SHOW: Every day of Future Fest we have a trade show floor filled with fantastic employers. In order to visit employers at the trade show, you must first register on Handshake before receiving an email from Brazen. The actual trade show will be held on Brazen. All other Future Festival events are held on Zoom.
Keep in mind! Tradeshow hours are from 10am-3pm, September 28th to October 1st.
See a full list of employers at the tradeshow here: https://jhu.joinhandshake.com/career_fairs/15645/employers_list
Check out this great graphic to help navigate registration on Brazen for the Tradeshow floor: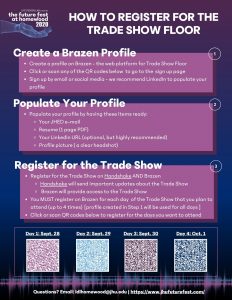 DAY ONE: Monday, September 28th
3:10 PM NWWB (Navigating Work While Black/ With Black Co-Workers): The Future of Code Switching (Future Fest Networking Session) Sponsored by The Broad Institute
5 PM Women in Tech (Future Fest Networking Session)
7 PM Future Ways of Being Symposium ft. Dr. Farouk Dey, Dr. Leana Wen, and Kris Madu (Future Fest Main Stage)
DAY TWO: Tuesday, September 29th
7 AM International and Global Careers (Future Fest Networking)
4:30 PM Inside the Finance Industry (Future Fest Networking Session)
7 PM Opus – Peabody Concert & Coffee House – A Johns Hopkins Student and Alumni Networking Event (Future Fest Main Stage)
DAY THREE: Wednesday, September 30th
8:30 AM Bloomberg Engineering Sponsored Puzzle Competition: BPuzzled (Future Fest Competition Stage)
3:10 PM From Hopkins to Health (Future Fest Networking Session)
4:30 PM So, What DID You Do With That? Humanities Networking Session (Future Fest Networking)
4:40 PM Perspectives in Environmental Careers (Future Fest Networking Session)
7 PM Factuality – The Game (Future Fest Main Stage)
DAY FOUR: Thursday, October 1st
3:10 PM Blue Jays Unlimited: Student Athlete and Alumni Connections (Future Fest Networking Session)
4:30 PM CLE Connect 2020 on HopkIn (Future Fest Networking Session)
7 PM Future Gest Keynote: A Fireside Chat with Chef José Andrés (Future Fest Main Stage)
Tips and News
We are here for you to help best organize and navigate Future Fest! And LDE, Carlos, offers 10 quick tips to get the most out of #FutureFest2020!

Tags: calendar, events, future fest, hub, information, information tent