'Tis the Season for Intersession Courses (Winter 2022)
Posted: November 23, 2021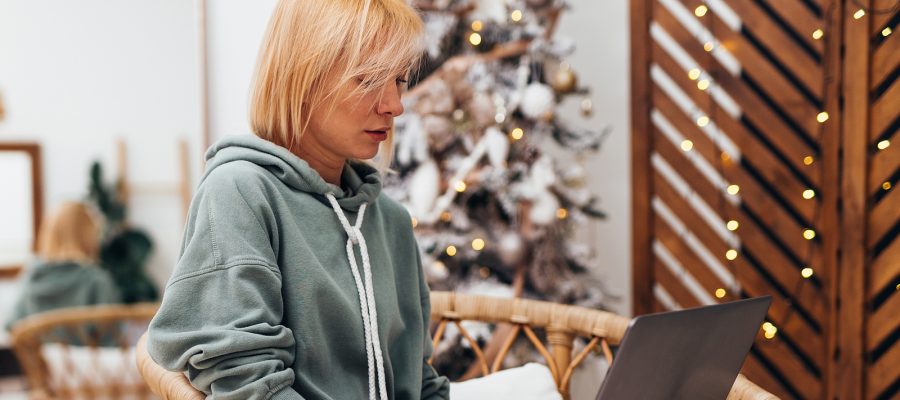 Our intersession courses are BACK! Don't miss your chance to grow and design your experiences through our winter virtual programs. This post serves as your one-stop and always updated stop for all our intersession information and updates for KSAS, Whiting and SOAR. This info is always in flux and will change as more information is confirmed. You can always message lifedesignlabhomewood@jhu.edu for all your needs and questions.
Students who were registered full-time in the fall pay no tuition cost associated with intersession.
Hindsight Is 2020: What I Wish I Knew About…. (Warm up with these alumni conversations)
Attend Hindsight Is 2020 alumni panels to listen to alumni stories and ask questions about their experiences and career paths regarding things they wish they knew about. All events are virtual and run from 8-9pm EST. Contact Andrea Wiseman for more information and search "Hindsight" in Handshake for each event link.
Are you wondering what you can do with your major, thinking about adding a major/minor, changing majors or getting an advanced degree in a different field? Come to this virtual alumni panel (link sent upon registration) and listen to alumni stories and ask questions about their experiences and career paths:
Maria Callahan – '15 Film & Media Studies; '20 JD William & Mary Law School
Sarah Capponi – '12 Writing Sems; '16 Sidney Kimmel Medical College
Dominique Duval – '12 Public Health/minor Africana Studies; '17 UMD School of Nursing
Scarlett Hao – '13 Biology/minor Music/pre-med; UMD SOM
Lindsay Kiernan – '15 Writing Sems & English
Joel Mantilla – '13 Biology & History; '14 Bloomberg Master's BioChem/Molecular Bio; '20 Bloomberg Master's Applied Sciences in Population Health Management
Wondering about your possible career options? Come to this virtual alumni panel (link sent upon registration) and listen to alumni stories and ask questions about their experiences and career paths about pivoting careers, having a 'non-traditional' career path or having interesting immersive experiences:
Jorge Alvarado – '15 Engineering Mechanics; '17 University of Nevada Las Vegas MEd; '22 Teachers College Columbia University MEd
Albert Chavesta – '16 Behavioral Bio & Psych; '20 JHU SOE MS Educational Studies; '23 Columbia University MPH
Ivory Loh – '18 Public Health/minor Psych; '20 University of Washington MPH 4. Craig Rosenblum – '09/'10 Materials Science Engineering BS/MS
Are you considering grad school, med school or a gap experience? Come to this virtual alumni panel (link sent upon registration) and listen to alumni stories and ask questions about their experiences and career paths:
Dannielle Brown – '16 Public Health/pre-med; '17 Bloomberg Master of Health Science, Mental Health
Nirali Chauhan – '16 Public Health; '19 Dartmouth College MPH; '23 University of Illinois Chicago SOM
Nikhil Modak – '16 MoleCell Bio; '20 University of Toledo SOM
Peter Nelson – '15 BME; '25 University of Pittsburgh SOM
What alumni wish they knew – Are you wondering how to create meaning & find joy through passion projects or developing interests and skills? Come to this virtual alumni panel (link sent upon registration) and listen to alumni stories and ask questions about their experiences and career paths:
Jen Alejo – '13 History of Science, Medicine & Technology/minor Bioethics/pre-med; '18 UVA SOM
Biobele Braide – '18 Neuro/minor French
Faradia Kernizan – '12 History of Science, Medicine & Technology
Marina Palma Lima – '13 Public Health; '18 Johns Hopkins SOM
Learn How to Connect with Alums Using OneHop
Wednesday, January 19th at 3pm Register Here
Do you want to know how to connect with amazing Hopkins alumni to learn more about their jobs, life path, and more? This session will introduce you to OneHop an easy-to-use platform that will allow you to build connections with JHU alumni. Learn how to set up your profile, find connections, reach out via message, and prepare for your conversations.
Intersession Courses:
The Seminar in Financial Literacy
January 4 – 14 Apply on Handshake
The Seminar in Financial Literacy is a two-week seminar designed to introduce Hopkins undergraduates to the financial services industry. The goal is to provide an introduction to a variety of topics in finance, with a practical focus on exposing the students to employment options in the industry. The Seminar will consist of two weeks of lectures, delivered by distinguished Hopkins alumni, and additional programs offered during the course designed to introduce students to Wall Street employers. By the end of the seminar, students should have developed an understanding of the structure and jargon of the financial services industry. Hence, they should be poised to profit from employer sessions and networking events offered during and following the course. Class size limit is 30. Freshmen and Sophomores only. Students who are selected will be required to attend a preparation meeting with the Life Design Lab in early December.
Becoming Your Own Biggest Change-Maker, Creating a Socially Conscious Career in Science
January 10th- 21st, Contact Keira Wilson for Registration
The world of science and medicine has the potential for great impact and over the course of the last year we have witnessed its ability to reshape policies and practices for entire communities. As we reflect on the enormous personal and professional impact the pandemic has on us and the fields of science and medicine, students will begin to address their power and role in community action. They will identify their own personal social cause, illuminating the relationships, skills, and tactics used for social consciousness, and develop a network of collaborators. Centered in the methods of Life Design and Emergent Strategy this course will help students develop the mindsets needed to utilize their experience in a dynamic field.
Designing Your Digital Portfolio
AS.360.197 (22), 1 Credit, contact Mike Gonzales for more Information
January 10th-21st MTWThF 04:00 PM – 05:15 PM on Homewood Campus, Lecture
Registration begins on SIS December 7, 2021, Enrollment Limit: 20
This 2-week course will provide students in the humanities, arts, and social sciences with a framework for integrating their academic and career aspirations at Hopkins through the design of a digital portfolio. Through readings, discussions, design collaborations, and a culminating virtual portfolio project that is in line with your industries and fields of interest, we will look at the current use of portfolios in a variety of fields; innovative options for documenting student work; the reflective process of building your personal brand; and digital portfolios as engagement tools for targeted audiences outside of Hopkins. This course is also open to students in STEM interested in integrating the humanities, arts, and social sciences in their work.
Public Health, Prose + Purpose: The Role of Storytelling & Self-Care in Public Health Fields
January 10-21, contact Lauren Barrett for more information
Pavita Singh, MPH, Executive Director, Girls Health Ed
Physician-poet Rafael Campo describes two purposes that poetry serves for him: it acts as a "factory for empathy" to listen and reflect the stories of his patients through creative expression, and it also serves to heal what he describes as "a kind of wound" that comes from being a health professional who experiences the emotional toll alongside his patients. He is one of many health professionals, dating back to 19th century poets such as John Keats, who uses the art of writing as a method of storytelling as well as a personal practice of processing thoughts and emotions. Digital communities of health professionals and creative writers share, publish, and support each other's work through connection and dialogues, another way that the solitary act of writing transforms into community-building. Furthermore, as the health communications field grows, creative writing can be employed to reach audiences that otherwise go uncaptured by disconnected stories.
In the past 18 months, as public health and healthcare professionals have acutely experienced the tragedy and trauma of the pandemic, the future professionals who step into these fields can be well-served through cultivating a writing practice, whether it is personal or professional. This course will expose students to a variety of interdisciplinary health creative writers, engage in meaningful community exercises around creative writing, and adapt and personalize a mindset for writing about their public health experiences that is authentic to their voice and experience while honoring the work and community who inspired it.
The Course You Need Right Now: Stories, Service and Resilient Roots
1 Credit – 12-15 Contact Hours
January 10th-21st, 1:00-2:30 PM, Contact Tessa McKenzie for information
Loved ones are distanced. Governments are stretched. Injustice and societal unrest are rampant. In 2021, the ability to bounce back has taken on a new urgency. Welcome to The Course You Need Right Now: Stories, Service, and Resilient Roots. In this course, we will walk alongside each other in an effort to design-think our way to a resilient 2022 and beyond (a future in which students are empowered to pursue their purpose amidst the improvisation of life). We'll create goals and strategies informing "resilience," reframe challenges as opportunities to create/reinforce healthy habits, and even explore avenues to avoid the "dark side of resilience." By authoring personal "profiles in resilience," students will move forward, be better able to articulate the past, be equipped for the challenges of the present, and be prepared with the tools and growth mindset to live rooted in their unique mission, vision, and values.
COURSE SUMMARY This course will apply strengths-based practices in reflection, positive psychology, the cultural wealth model, and life design to empower students to cultivate professional and personal resilience. Through "profiles in resilience" from alumni, employers, and campus community partners, students will build individual toolkits and networks to translate past and current challenges into life-long passion and mission-driven purpose.
LEARNING OUTCOMES
Craft personal definition of resilience

Identify tools to build life-long capacity for resilience

Explore avenues for on-going self-reflection and personal narrative construction

Cultivate communities for positive personal and professional change

Create personal and professional "profile in resilience"
Show Your Work: Building an Engineering Portfolio
Tuesday, January 4 – 14
10:30am – 11:45am, Contact Matthew Golden for more information
This course will use the process and mindsets of design thinking and life design to help students create resumes, accomplishment statements and develop the artifacts necessary for an engineering portfolio. Rooted in the best practices of content creation and narrative design, students will engage with alumni and employers to understand industry standards and expectations for experience-based portfolios. Students will prototype possible career paths and develop artifacts to support immediate next steps to gain experience in those fields.
VIRTUAL TREKS & EMPLOYER EVENTS
:
Virtual Bio-Tech Trek
Tuesday January 11th and Wednesday 12th
Collaboration with Keira Wilson and Leah Banks Contact either for more info
Handshake Application Link TBA
KSAS & WSE Undergrads (Priority given to sophomores & juniors)
Join us for an Intersession Virtual Trek where students will learn more about the Biotech and Medical Device Industry by meeting with various companies (ex: Boston Scientific, Amgen, The Broad Institute and more) and alumni. Students will gain insight into opportunities and various career paths in biotech, pharma, medical device and related industries over the two days of virtual visits. Students will also have an opportunity to connect and network with JHU alumni through industry networking events.
Tech & Entrepreneurship
Monday, January 10 through Friday, January 14
10:30 AM to 12:00 PM (lecture/discussions) AND 1:00 PM to 2:30 PM (guest speakers, discussion), Contact Paul Davidson for more information. Register here
1 credit, submit an application in Handshake for approval to register
This course will use the process and mindsets of Life Design to help students explore careers and build a network in the fields of technology and entrepreneurship. Through life design classwork, guest lectures from alumni and industry experts, alumni networking opportunities, virtual employer events, and experiential learning exercises, students will work to understand their own career and professional interests and motivations, prototype possible career paths, and find their fit within the broader tech ecosystem.
Media & PR in the Big Apple
January 4 – 14
Leslie Kendrick – Instructor, contact Karen Mardock for more information
Gain insight into trends and career opportunities in public relations, advertising, and media through one week of virtual learning followed by a virtual speaker series and virtual networking with executives from firms like AMC Networks, LinkedIn, Harper-Collins, Google, and more.
NETWORKING EVENTS
:
Wall Street Today Virtual Finance Networking event
January 19, 6:00 – 7:15 PM
Biotech Alumni Networking Event
January 11 at 6pm
PR, Media, and Marketing Alumni Panel
January 12th at 7pm
Entrepreneurship and Tech Alumni Networking Event
TBD (either January 12 or January 13)