Future Fest 2021

We are proud to announce the return of The Future Fest at Homewood
Oct 4-7, 2021!
Register in the links below
Announcements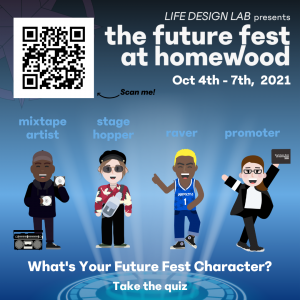 View the full list of our attending employers in the Students section of this page!
What is Soundcheck?
Thanks for attending Soundcheck! Make sure to register for each Future Fest that interests you below.
What is Future Fest 2021?
The Future Fest at Homewood (previously known as the Homewood Career Fair) is a ground-breaking, 100% virtual approach to building authentic professional relationships, engaging with top talents and university partners, and exploring the future of human potential, work, and innovation.
Future Fest is modeled on the stage layout of musical festivals and is open to all Hopkins undergraduates, graduate students, and alumni, including the Whiting School of Engineering and the Krieger School of Arts & Sciences. Hosted on the Brazen platform, Future Fest provides employers the opportunity to identify and recruit top talent from JHU using virtual chats and instant messaging during our career-fair-style trade show floor, and there are additional networking and workshop events to join as well.
The Future Fest allows employers to connect with JHU students from all nine campuses in productive ways grounded in diversity, inclusiveness, and equity principles.
Agenda (updated regularly)
Tradeshow floor: Each day from 10am-3pm EST
Click each event to sign up as registration becomes available. IF you have any questions about these events, reach out to lifedesignlabhomewood@jhu.edu
---
Employers
Employer registration is now CLOSED
On top of being able to connect with hundreds of talented JHU students, you will also have the opportunity to purchase sponsorship packages and have your logo and name placed with our merchandising.
Last year we had over 600 undergrads and over 100 alumni producing over 2,000 connections over 4 days. Don't miss your chance to join the conversations!
If you have any questions about Future Fest and preparations, please contact Homewood.recruit@jhu.edu
For all questions on pricing and promotion reach out to the LDL Hiring Team.
---
Alumni
Soundcheck is a great opportunity for employers/alumni seeking to recruit students during Future Fest while also providing insight into best practices and tips on networking, interviewing, and resume building. If you are interested in hosting 30-min info sessions on Thursday & Friday from 10a-12p fill out
this form.
Employer registration is now CLOSED