Annual Events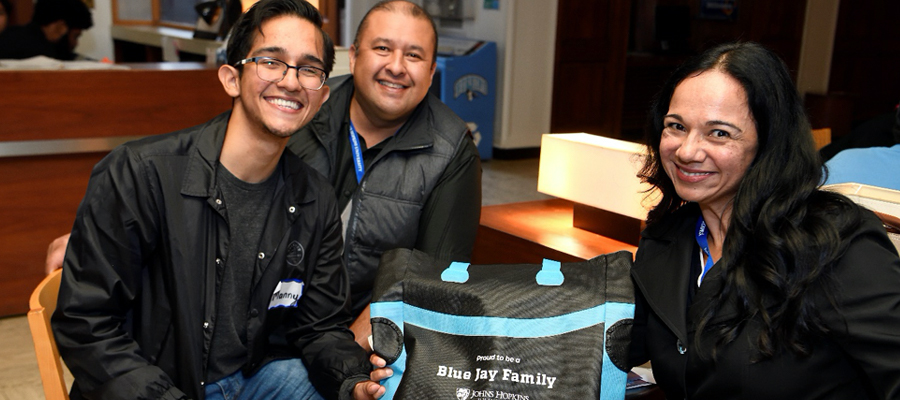 Blue Jay Families are invited to participate in a number of events throughout the academic year. Explore the list below to learn more about these events.
Interested in helping to plan and coordinate programming and events? Consider becoming a Blue Jay Family Ambassador!
---
Summer Send-Off Parties
Throughout the summer, Send-Off Parties are held in many cities across the country and around the globe to welcome Class of 2024 families and give them a chance to gather with fellow 2024 families, current families, alumni, and university staff. This year's Send-Off dates will be posted in late spring. We look forward to meeting you!
---
Orientation and Move-In
The Orientation and First-Year Experience office provides support for new students and their families to encourage a successful and enjoyable first year at JHU. Orientation occurs immediately following move-in to the residence halls.
New Student Orientation
New Student Orientation is a five-day program that will help prepare your student to transition to JHU successfully. Your Blue Jay will learn about academics and student life, meet with an advisor and a First-Year Mentor (current student), and connect with their new community.
Parent & Family Orientation
We encourage you to attend Parent and Family Orientation to learn more about all that JHU has to offer your student! Families learn about academic and student support services, hear from university administrators, and meet fellow Blue Jay Families.
If your student is participating in a Pre-Orientation program, Families do not have to return to campus for Orientation and will have the opportunity to participate in a condensed Parent and Family Orientation immediately following your student's move-in.
Family Orientation is not required but highly recommended. There is also no registration required for families. You just show up!
---
Family Weekend
Join us for Family Weekend to explore the campus community, connect with faculty and staff, meet fellow Blue Jay Families, and experience JHU with your student. The three-day event is packed with tours, class lectures, meet and greets, cultural events, and will be combined with our first inaugural Hopkins Day event.
Details about Family Weekend 2021 will be available in late Spring semester. Stay tuned!
---
Commencement
Undergraduates in the Krieger School of Arts & Sciences and the Whiting School of Engineering will participate in the university-wide Commencement ceremony held at Royal Farms Arena, 201 W. Baltimore St., Baltimore, Maryland 21201. Candidates should arrive by 10 a.m. for lineup. Doors to the arena will be open at 9:30 a.m.

The 2020 university-wide Commencement will take place on Thursday, May 21 at 11 a.m.
For undergraduate families and guests, if schedules permit, consider arriving in time to join your graduate for other Commencement-related activities on the Homewood campus. Activities include the Homewood Undergraduate Senior Toast —a champagne and dessert reception with university leadership, 8–10 p.m., Wednesday, May 20, 2020.
As the Commencement date nears, your student can tell you what other events they are participating in, as there are many smaller events that take place leading up to and following Commencement.
Tickets are not required. Accommodations including ASL interpreters, assisted listening devices, or Braille program booklets are available for commencement attendees needing assistance. Contact the Commencement Office via email or call 410-516-7711 by April 23.
Since public parking near the arena is limited, please consider avoiding driving if possible. For those who choose to drive, the Parking and Transportation page has information about parking in the general vicinity.
The arena's drop-off area is along the curb on W. Baltimore Street, near the main entrance at the corner of W. Baltimore Street and Hopkins Place.
Johns Hopkins University will offer complimentary parking in the South Garage on the Homewood campus on Commencement day and operate a shuttle service from Mason Hall to the Royal Farms Arena. Information about the Homewood shuttle is on the Parking and Transportation page.
Our Visitor Information page has external links to hotels near the arena, frequently asked questions, details on event accessibility, and suggestions to help you commemorate your graduate's moment. The Commencement Undergraduate Checklist contains information on ordering graduation-related items, including class rings, graduation announcements, senior portraits, and academic regalia.
In mid-November, parents of students expected to graduate in May should have received an email from the Commencement Office. If you did not receive this email or have questions, please contact the Commencement Office via email, call 410-516-7711, or message us through Facebook or Instagram.
Upcoming Commencement Ceremonies
Thursday, May 27, 2021
Thursday, May 26, 2022