Annual Events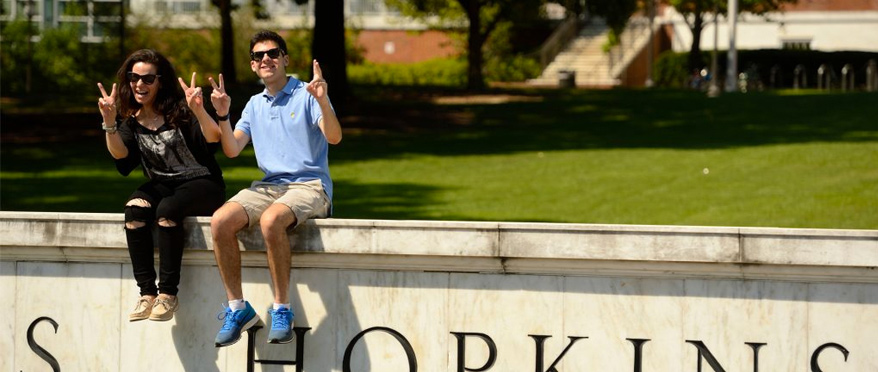 Blue Jay Families are invited to participate in a number of events throughout the academic year. Explore the list below to learn more about these events.
Interested in helping to plan and coordinate programming and events? Consider becoming a Blue Jay Family Ambassador!
Summer Send-Off Parties
Throughout the summer Send-Off Parties are being held in many cities across the country and around the globe to welcome Class of 2022 families. Please join us at a Send-Off Party near you to gather with fellow 2022 families, current families, alumni and university staff. We look forward to meeting you!
Orientation and Move-In
The Orientation and First-Year Experience office provides support for new students and their families to encourage a successful and enjoyable first year at JHU. Orientation occurs immediately following move-in to the residence halls.
New Student Orientation
New Student Orientation 2018 is Saturday, August 25 through Wednesday, August 29, 2018. The five-day orientation program will help prepare your student to successfully transition to JHU. Your Blue Jay will learn about academics and student life, meet with an advisor and a First-Year Mentor (current student), and connect with their new community.
Parent & Family Orientation
We encourage you to attend Parent and Family Orientation to learn more about all the JHU has to offer your student! Families learn about academic and student support services, hear from university administrators, and meet fellow Blue Jay Families. Parent and Family Orientation 2018 will be held Saturday, August 25 beginning midday through Sunday, August 26, ending in the early evening.
If your student is participating in a Pre-Orientation program, you do not have to return to campus for orientation and will have the opportunity to participate in a condensed Parent and Family Orientation immediately following your student's move-in.
Family Weekend
Join us for Family Weekend to explore the campus community, connect with faculty and staff, meet fellow Blue Jay Families, and experience JHU with your student. The three-day event is packed with tours, class lectures, meet and greets, cultural events, and much more to connect you to the campus and your student's new home.
Please mark your calendar! Family Weekend will be held Friday, October 5 through Sunday, October 7, 2018. We encourage you to make your hotel reservations early!
Commencement
Undergraduates in the Krieger School of Arts & Sciences and the Whiting School of Engineering will participate in the university-wide commencement ceremony held at Royal Farms Arena on Thursday, May 24, 2018, at 1:30 p.m. Doors open at 12 p.m. and graduates line up at 12:30 p.m. The ceremony begins with the procession at 1:30 p.m. and is expected to conclude by 5:30 p.m.
Tickets are not required. Accommodations (e.g. designated seating, closed captioning, ASL interpreting services, assisted listening devices, and alternative format programs) are available for commencement attendees needing assistance.
Parking near the arena is limited. Ceremony attendees are encouraged to utilize public transportation, taxis, rideshare services, or the Commencement shuttle from the Homewood campus. More information about transportation options is available on the Commencement website.
Upcoming Commencement Ceremonies
Thursday, May 23, 2019
Thursday, May 21, 2020