Blue Jay Family feature: Skaff family
Posted: November 28, 2018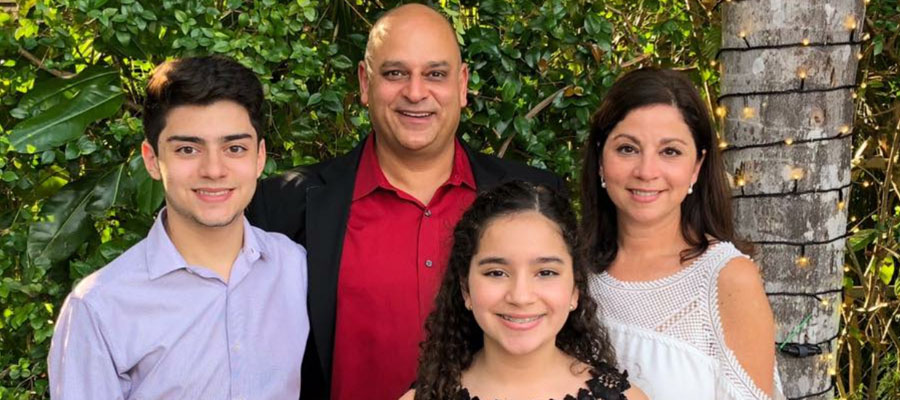 There are many elements to consider when selecting a college, from the range of majors offered and the reputation of the institution to the size and location of the campus. After narrowing the options down to a shortlist of schools and scheduling in-person visits, the first impression of a college community is often the deciding factor.
When Katyna Skaff, a Class of 2022 parent, and her family took their first tour of the Homewood campus in February 2017, the tree-lined walkways and Georgian architecture were certainly welcoming. But nothing made a greater impact on the prospective Blue Jay family than Hopkins' students themselves.
"We saw that students were happy," Katyna says. "Everyone we encountered was welcoming and friendly." In addition to an introductory session at Shriver Hall with an informative panel that included students
in different programs, Katyna remembers a student-led campus tour that truly made the difference. "He did a great job of being patient, answering all of our questions, and taking us through every building. Inside Shriver Hall, we were just a number among approximately 100 other families; when we ended the tour, we felt like we belonged."
For Katyna's son David, this sense of community was an appealing addition to Hopkins' academic programs, faculty, and national ranking. Since arriving on campus full-time, he has equally enjoyed the flexibility of the university's curriculum and the "non-pretentious" spirit of the student body. "He has made lots of friends from all over the world—some are juniors and seniors," Katyna says, "and he has made friends with athletes and students involved in other programs that are not his own."
David's diverse circle of friends has also broadened the horizons of Katyna, her husband (also named David), and their younger daughter Emma, inspiring them to participate in a wide range of Hopkins activities. The Skaff family have become avid fans of the Blue Jay Athletics teams—particularly lacrosse, baseball, and women's fencing—and during this year's Family Weekend, Katyna and Emma enjoyed an a cappella concert that featured many of David's new friends.
Katyna would advise all new Blue Jay families to stay connected with the school, not only through digital means like the Blue Jay Family newsletter and the university's various social media channels but also by introducing themselves to members of the community at events like regional Summer Send-Offs, Move-In Weekend, Pies and Goodbyes, and Family Weekend. She also asserts the importance of giving students room to grow and knowing that the university's staff, from academic advising to the student health center and campus security, are here to ensure these young scholars thrive. "Express your support," she advises, "but give them time to solve their own problems and figure things out."
As the winter holidays approach, Katyna looks forward to having her son home, seeing him reunite with his high school friends, and taking time to reconnect as a family. "I'm so excited for him to be home after 87 days at Hopkins," Katyna says. "I will enjoy talking with him and not having the usual quick text."