Blue Jay Family feature: Meet the Opoku-Achampongs
Posted: January 8, 2019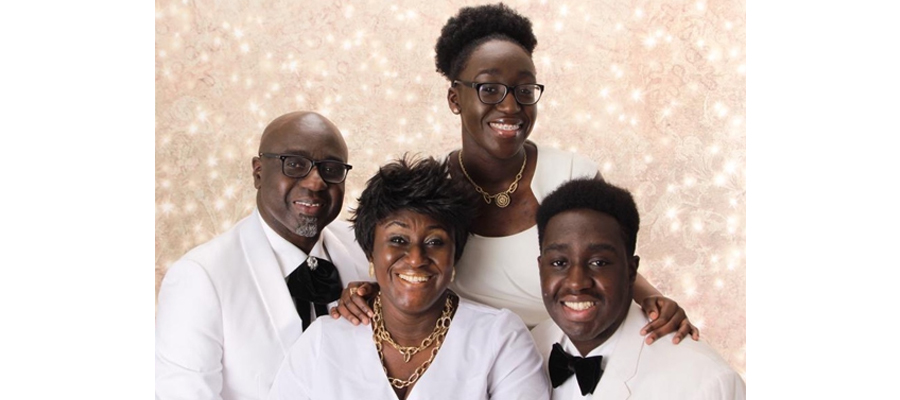 Distance can be intimidating for many first-time college students and their families. For Kwabena and Eva Opoku-Achampong, their son Nigel's decision to turn down offers from Ivy League schools in their home state of Massachusetts in order to attend Johns Hopkins took some getting used to. "Nigel was initially attracted to Hopkins because of Johns Hopkins' academic excellence," Kwabena says, "particularly the medical school's being one of the best in the nation."
Complicating matters further was the fact that, while the Opoku-Achampongs were able to visit the other colleges Nigel was considering, they didn't have the opportunity to make a trip to Maryland before the acceptance deadline. "We finally agreed to pray over the decision," Kwabena says, and ultimately, the family took a chance on Hopkins.
The family's first visit was in July of 2018, approximately a month before Nigel's first semester, but it did not take long for the family to feel confident in their decision. "In fact our expectations were far exceeded when we visited the first time," Kwabena says. Student-led information sessions provided the Opoku-Achampongs with answers to their questions and campus tours gave them a sense of a secure environment within a busy city. From there, Move-In Day and Orientation helped provide a smooth transition and gave Kwabena and Eva a chance to meet staff members who, Kwabena says, "really made us feel at home. They went the extra mile to tell us more about the school, and they genuinely advised Nigel and the entire family."
Nigel took full advantage of his resources. He adapted a studying strategy, connected with a calculus tutor, and is currently on a pre-med track as he begins his second semester. In the meantime, Kwabena, Eva, and Nigel's younger sister Nicole are still adjusting to life without him. "It really hit us after we dropped him off and drove over 350 miles back to Massachusetts," Kwabena says. "We are a very close family, and most of our routines, if not all, involve the four of us. His returns from school are always a big relief to us."
Family Weekend proved a "joyous and memorable" time for the Opoku-Achampongs, giving them an opportunity both to reconnect with Nigel and to learn more about the resources available to families—and to students—during this time of transition. "We attended most of the information sessions together," Kwabena says. "These sessions and meetings should be encouraged, as they help plug families into Hopkins academics. As parents, we had some sense of belonging and didn't feel left out, and we encouraged Nigel to tap into the resources available at the school as he adjusted from high school to college." They even found time to meet with another first-year family from Massachusetts and exchange ideas on how best to support their children.
During Nigel's first trip home during the Thanksgiving break, Kwabena and Eva were excited to show off their Blue Jay. "We are one of three groups of family friends, and every year we rotate on who is hosting Thanksgiving," Kwabena explains. "Although 2018 was not our turn, we actually jumped the line. Nigel happens to be the first college kid among the three families, and he gave a brief speech on college life." For the winter holidays, the family was happy to keep their traditions of Christmas shopping together, attending church on Christmas day, and reminiscing on their blessings over the past year.