Celebrating National First-Gen Day
Posted: November 4, 2019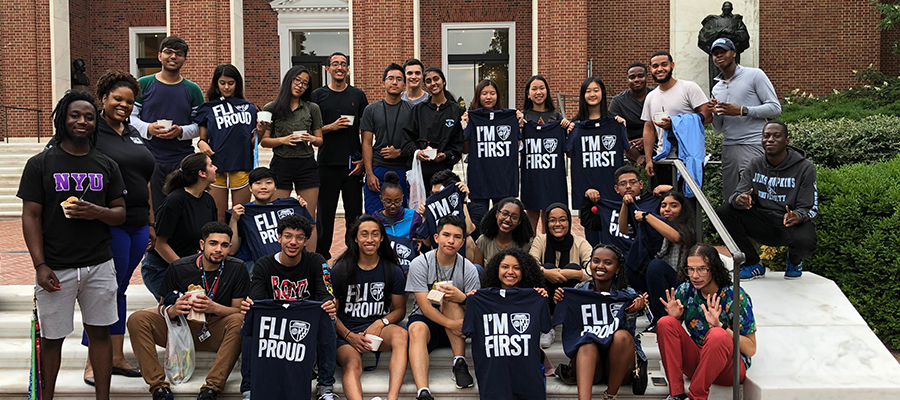 Johns Hopkins will highlight the success of first-generation (first-gen) students and bring attention to campus partners and resources during our celebration on Friday, Nov. 8, 11:30 a.m.–1 p.m. at Keyser Quad. Students, faculty, and staff can socialize, listen to music, enjoy I'M First or FLI (first-generation, limited income) Proud refreshments and give-aways, or participate in other activities that promote awareness of first-generation students. First-generation students, as well as faculty and staff who were first-generation students, have been invited to wear I'M First, FLI Proud or FLI Friend buttons or tee-shirts. Although the day is named for first-generation students, our celebration will recognize all FLI students.
The celebration will continue with the Networking Mixer on Nov. 14, 5–7:30 p.m. at Shriver Hall, Clipper Room. This collaborative event is for first-generation and other FLI students to network and share narratives of intersecting identities with students and professional staff from similar backgrounds. Professional photographer, Eric Jordan, will take free professional headshots—for future use. For professional headshots please R.S.V.P at OMA@JHU.EDU. Refreshments will be served.
Johns Hopkins will join colleges and universities across the country to celebrate National First-Generation College Student Day. The National First-Generation College Student Day was established on November 8, 2017, by the Council of Opportunities in Education (COE) and NASPA Center for First-Generation Student Success.
Across the country, college campuses will celebrate the presence and success of first-generation students, faculty, and staff on November 8; a date that also commemorates the day Congress approved the Higher Education Act in 1965. The HEA was intended to ensure equal opportunities for underprivileged students to attend college by providing federal grants and loan programs to help finance the cost of a college education. This legislation made other critical investments in institutions and funded programs to increase the access, retention, and graduation of first-generation, low-income students.