Give Back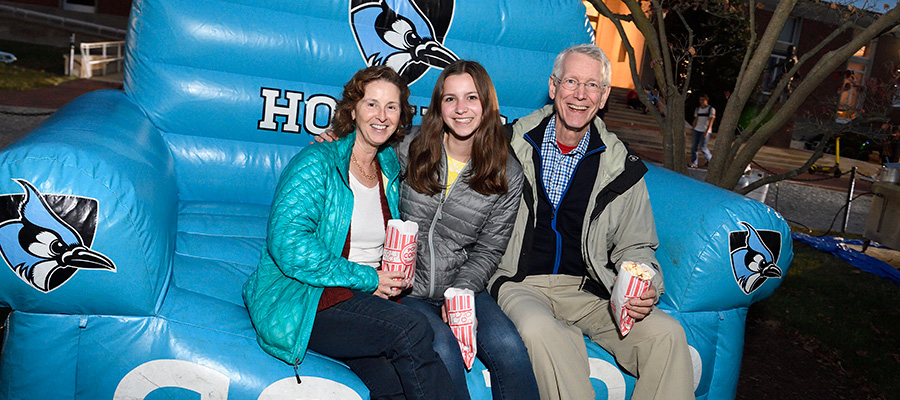 As a parent or family member, your most important role is providing support and motivation for your Blue Jay. Additionally, we encourage you to get involved in ways that can further enhance your family's experience and connect you to the university.
Hopkins Parents Council
Join 30+ enthusiastic Hopkins families from across the country and around the globe who provide leadership support for the Hopkins Parents Fund. Hopkins Parents Council members reach out to other Blue Jay Families to enlist their support, advocate in their home communities, and meet twice yearly on the Homewood campus with university leaders and administrators. For more information, email parents@jhu.edu.
We joined the Hopkins Parents Council because it gives students access to meaningful and impactful experiences and we believe a healthy balance is key to success at JHU. When we hear enthusiasm in our son's voice when speaking about an event he attended that was made possible by the Parents Fund, it reinforces the value of our contribution. – Michael and Toni Brown P'17
Hopkins Parents Roundtable
The Hopkins Parents Roundtable consists of a small group of families, hailing from across the country and around the globe, who serve as special advisors to JHU's Vice Provost for Student Affairs and her leadership team. The Roundtable gathers on the Homewood campus both in the fall and spring to discuss university updates and issues related to the student experience. For more information, email parents@jhu.edu.
Parents Internship Network (PIN)
The Life Design Lab (formerly Career Center), Parents Programs and Giving, and the Hopkins Parents Council hope to partner with you to build a network of diverse, meaningful, paid summer internships for rising junior and senior Blue Jays. Blue Jay parents are important partners in support of our goal to provide critical, valuable experiential opportunities for Hopkins undergraduates as they carve their pathway into a career. The Parents Internship Network is your vehicle to share your unique opportunity, or an opportunity from your professional network, on the Life Design Lab's digital platform for students seeking summer internships.
Join other Blue Jay Families in supporting student success by submitting an internship opportunity and helping us to grow our impressive roster of companies participating in PIN. Additionally, parents and family members are encouraged to utilize their connections to create exciting opportunities for JHU students.
Advertising
Chemicals
Education & Higher Education
Finance
Law
Retail Trade
Aerospace
Communications & Media
Electronics
Government (State & Local)
Manufacturing
Social Media
Arts & Entertainment
Computer Hardware & Software
Energy
Government (Federal)
Marketing Analytics
Wholesale Trade
Aviation
Consulting
Engineering
Health Care
Non-Profits,
Philanthropy, and
Foundations
Technology
Biotech & Pharmaceuticals
Consumer Products
Entrepreneurial & Start-Ups
Insurance
Public Relations
Telecom
Business
Defense & Intelligence
Environment
International Development
Research
Think Tanks