Home, Not Alone: How the Flores Family Stays Positive Through Home Learning and Houseguests
Posted: October 14, 2020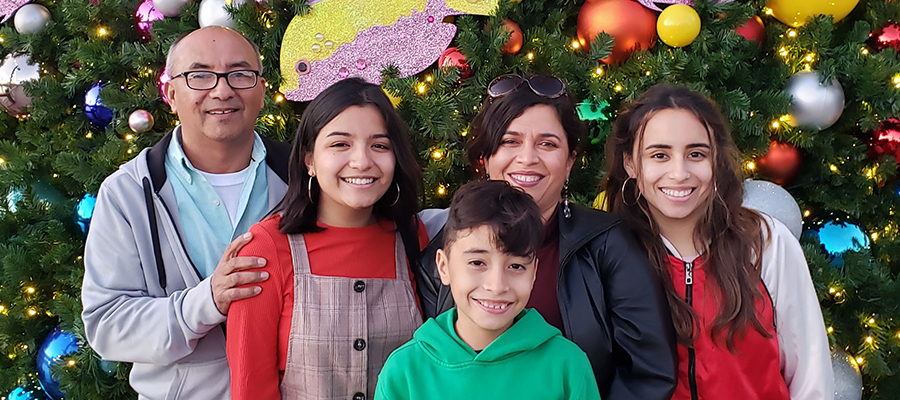 Written by Koye Berry. On Friday, November 6, Johns Hopkins University will celebrate all of our first-generation families during National First-Generation College Student Day. View a list of related events and programs on the FLI website.
"I live right next door to Mickey Mouse," Abigail Flores says of the Florida home she shares with her parents, Gladys and Abdon, and two younger siblings. Abigail is currently in her third-year at Johns Hopkins, majoring in molecular and cellular biology; but prior to attending college, she had never lived outside of Orlando. But from the time she was in the ninth grade, Abigail dreamed of spending her undergraduate years in Baltimore.
"I heard a speech from a high school alum who was attending Hopkins at the time," Abigail says. "He came back to my high school during my freshman year, and his speech and enthusiasm left me in awe of the university."
Abigail was initially waitlisted and had begun making plans to attend the University of Florida. She and her family felt some comfort in knowing this would allow her more opportunities to visit home. However, once her acceptance letter from Hopkins came, there was no looking back.
For Gladys, a stay-at-home mother, the difficult prospect of having her firstborn nearly 900 miles away didn't diminish her excitement at seeing her daughter's wish fulfilled. "Although I was hesitant to see her leave," Gladys says, "I felt a joy I cannot describe because it was her dream college. I knew that this was a big opportunity for her to achieve her dreams."
Not only did the Flores family have to prepare for Abigail's first time living away from home, they also had to make arrangements for sending their first child to college. In fact, Abigail is the first in her family to pursue a bachelor's degree, making her part of a community known at Hopkins as FLI students, which stands for first-generation students or those from limited-income backgrounds.
While financial logistics are often considered the primary concern for FLI students and their families, issues of acclimation—such as deciphering higher-ed lingo, familiarizing themselves with available resources and services, and feeling confident in asking faculty and staff for help—are often invisible barriers that can contribute to academic challenges, social isolation, or even dropping out.
"Financial Aid really helped ensure that we were able to afford Hopkins," says Gladys. "Abigail was also accepted to the Hop In-program, which I feel helped her adjust to Hopkins before the start of her first year."
Hop In is one of Hopkins' long-running support programs for FLI students. It provides an annual cohort of 40 students with a broad range of services, beginning with a summer program for incoming students and continuing on to graduation with mentoring, financial literacy programs, career guidance, and more.
"I am eternally grateful to Hop In," Abigail says. "I met some of the most dedicated staff within that program. I really love all the Hop In advisors; they really take the time to get to know us and are dedicated to our success."
Abigail has also become involved with the FLI Network, an initiative focused on fostering a sense of belonging, inclusion, encouragement, and resilience among FLI students by connecting them with other FLI students as well as FLI faculty, staff, alumni, and allies in the Hopkins community. "Being connected to the FLI Network, I am able to take advantage of opportunities to further my career aspirations and get to know some of the coolest, most inspiring people I know."
Chief among those people is Dr. Irene Ferguson, Director of Student Enrichment Programs for the Center for Student Success (one of Abigail's favorite study spots on campus). Abigail counts Dr. Ferguson as an "advisor/mentor/voice of reason" and one of her biggest sources of support at Hopkins.
"She has been through everything with me," Abigail says, "and I can write and say all the 'thanks yous,' but it would never be enough to compare to her continued support and kindness. She has seen me at my best and worst; I recommend every student to find a mentor like that."
Unfortunately, as it has for students around the world, the COVID-19 pandemic has placed a layer of distance between Abigail and the relationships she has built on campus. But upon returning home in March, Abigail was certainly not alone.
"My aunt, uncle, and cousins were visiting for my little cousin's birthday," Abigail says. "They arrived a few days before me, and I was happy to be spending time with them during Spring break." Initially, Abigail was sorry to have only two days with her extended family before their scheduled flight home. Then her family received the news that flights out of Orlando had been suspended. "As a result, I had to do my remaining spring semester with twelve people."
Abigail managed to find calm in the chaos, and even took away an important lesson in self-care. "From the music of José Luis Rodríguez being blasted during my cell biology class to the late-night game nights, I realized that I had not been taking time for myself whenever I went in full academic mode," Abigail says. "I finally truly learned what my parents and a lot of my mentors have been trying to get into my head for the longest time: take time to breathe and enjoy the moment; the work will get done."
Gladys and Abdon have also contributed to Abigail's switch to remote learning. "We wanted to make sure she felt comfortable while starting online school," Gladys says, "so we made her a desk in her room so she could have a space that is quiet where she can concentrate." But beyond space considerations, the Flores's are happy to have their daughter home.
"Of course, the circumstances of why she is here are not good," says Gladys, "but we love having her at home and knowing she is safe. It feels the same as when Abigail attended high school."
"I finally truly learned what my parents and a lot of my mentors have been trying to get into my head for the longest time: take time to breathe and enjoy the moment; the work will get done." – Abigail Flores, '22
While there have been additional complications, ranging from temperamental wi-fi ("I'll be in the middle of biochemistry, then out of nowhere my professor freezes, and next thing I know I am out of the Zoom class," says Abigail) to a COVID-related layoff that cost Abdon his job, the close-knit Flores family has drawn even closer to adapt to the changes.
"My father and mother are two of the most positive people I know," Abigail says. "I hope that I can be as selfless as they are. Despite the loss of a job, my father still is striving to ensure that we are able to afford necessities. And all of us pitch in to ensure that we can get through this pandemic."
Abigail, who began interning for the FLI Network this summer, is happy to contribute to planning events for her Hopkins peers. She also advocates for increased promotional outreach to help build community and bridge the gap she sees between FLI students who are involved in the university's programs and those who aren't.
"As FLI students, we have experiences that differ from other students," Abigail says to her fellow Blue Jays. "But being FLI is also going to make you bring out different skill sets and be creative in your approach to things. We carry generations of people that have believed in us and even people who were skeptical of whether or not we would succeed. We carry the pride and awe of the people in our lives who would want to be in our shoes. Take the lessons you've learned from your biggest sources of strength and support, but also understand that you need to have the passion to pursue what you want."
And to other parents, especially those who've had to adjust to distance, Gladys's advice is direct: "Tell your students to always do their best, to work hard for what they are trying to achieve, and to never give up no matter how tough. The most important thing is for your child to work hard towards achieving their dreams."