Hoptoberfest 2017 Recap
Posted: October 15, 2017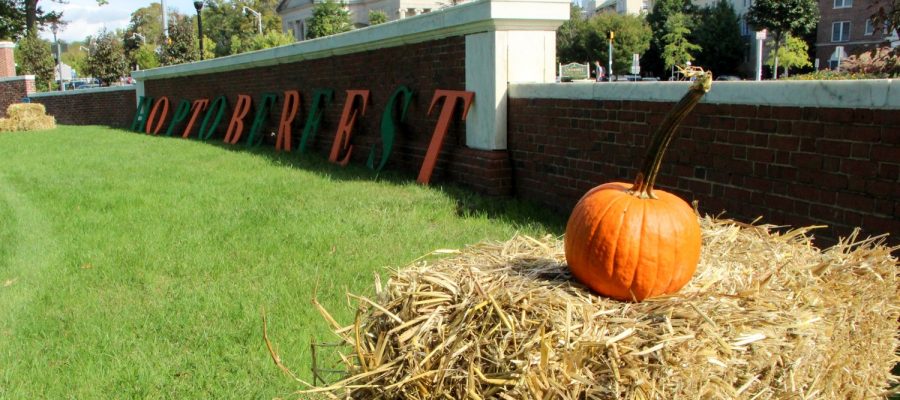 October not only marks the transition from Summer to Autumn, but also the full transition for many students to their life at Johns Hopkins. In an effort to further develop a sense of community and provide students a break from their rigorous midterms, the annual Hoptoberfest festival returned to campus with a series of seasonal events that not only added some orange to the Homewood campus, but also some color to students' lives. Check out some of the highlights from this year's event:
Pumpkinfest
What better representation of autumn is there than the orange pumpkin itself? On the second day of Hoptoberfest, The Beach was filled with dozens of bright pumpkins waiting to be picked by students. Although there was no fairy godmother to turn the pumpkins into carriages, the Hoptoberfest crew provided some of their own magic in the form of coffee and autumn-themed pies.
Make Your Own Mug
Students gathered outside of Levering Hall to make their own colorful mugs, which they promptly filled with free coffee which was enjoyed while snacking on donuts.
Concert
The line outside the MSE—which stretched all the way to the Johns Hopkins sign—made it clear: Students love free t-shirts and music. As Hoptobert fest t-shirts were distributed, students danced to the beats provided by DJ group Cheat Codes, who transformed The Beach into an electronic music festival.
Special thank you to the Hopkins Parents Fund for sponsoring Hoptoberfest and to the entire Hoptoberfest team who helped put the event together and bring the spirit of autumn to the Homewood community.