JHU Celebrates Black Heritage Month
Posted: January 29, 2018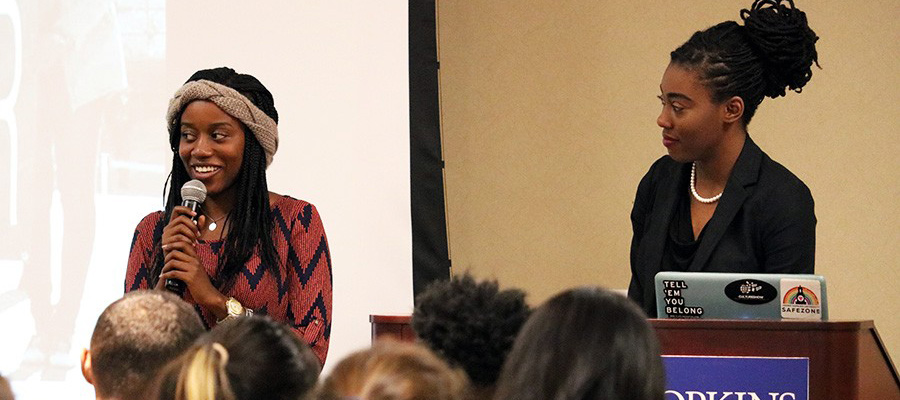 The Office of Multicultural Affairs presents the 2018 Black Heritage Celebration: "The Legacy of African American Leadership During the Times of Conflict & Controversy." The schedule of activities and programs will feature the following:
The Opening Ceremony & Live Poetry with Jasmine Mans & Harold Green who will so eloquently speak to the theme of the celebration
Rewind, A Paul Rucker's Exhibition & Discussion—an exhibition that visually embodies America's uncomfortable history regarding issues of social justice. Using text, video and sculptural installations, Rucker re-envisions and re-imagines past historical events and alludes to their relationship with current issues of power and injustice in America
Black Heritage Celebration Oratory Competition- students will have an opportunity to present and compete in an oratorical contest. Black Faculty & Staff Association will provide a list of topics that the student can choose to write and present at the competition.
Dr. Martin Luther King, Jr. Commemorative Day of Service as well as Keynote Address & Reception to conclude the heritage celebration.
Dr. Martin Luther King, Jr. once shared, "The ultimate measure of a person is not where he stands in moments of comfort and convenience, but where he stands at times of challenge and controversy." We have decided to use this quote to thread the content of the programs for the heritage celebration. Our objective is to welcome and invite all students of JHU and their parents and family to participate throughout the celebration. You will leave empowered, challenged, and informed through the programs and activities that celebrate and uplifts the history, the culture, and the influence of African Americans in our local and global community.
Scheduled Events
February 8 & 9, 10am-5:00pm: Visit Paul Rucker-Rewind Art Exhibition and Reception
February 8, 8:00pm: BEEF: Black Education & Empowerment Forum. Charles Commons Barber Room
February 9, 8:00-9:00pm: The Diaspora Relations at Johns Hopkins
February 10, 8:00am-2:00pm: Office of Multicultural Affairs MLK Day of Service. RSVP at

OMA@jhu.edu

February 11, 12:30-3:30pm: Reginald F. Lewis Museum Visit & Lunch at Local Baltimorean Restaurant. RSVP at

OMA@jhu.edu

February 15, 6:00-7:30pm: Black professionals in STEM12:30-3:30pm
February 17, 6:30-10:00pm: "Black Panther" Screening at Towson Cinemark RSVP

OMA@jhu.edu

February 19, 5:00-8:00pm: Black Heritage Oratory Competition
February 28, 7:00-9:00pm: Martin Luther King, Jr. Commemoration Address & Black Heritage Celebration Closing Reception. RSVP at

OMA@jhu.edu