Spring Fair 2018: A Space Odyssey!
Posted: April 2, 2018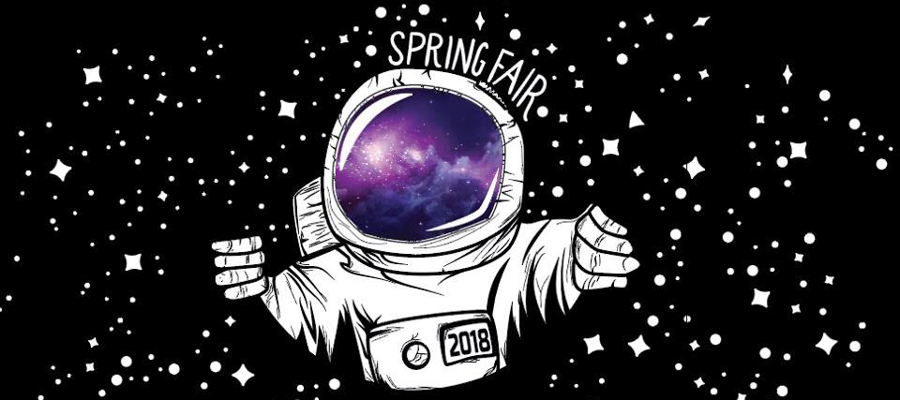 Spring Fair will take place from Thursday, April 19 2018 through Sunday, April 22 2018. Each day will be filled with exciting events and programs for the Hopkins and Baltimore communities to enjoy. The Fair is kid and family friendly! There will be over 50 arts and crafts vendors and over 20 food vendors. There will also be music stages on the Beach and in the Beer Garden. Spring Fair features rides, a petting zoo, and entertainers just for kids! Check out some of the daily highlights of Spring Fair below:
Thursday, April 19: Come celebrate the start of Spring Fair with us at the Spring Fair Kick-Off Party! We'll be in Mattin and Levering Courtyards from 7-10 PM. There will be music, refreshments, giveaways, and fireworks!
Friday, April 20: Spring Fair opens at 12 PM. There will be food vendors, arts and crafts vendors, music, and rides all throughout the Homewood Campus. The fun doesn't stop after Spring Fair closes! Join us in the Gilman Tunnel and on Levering Courtyard for the Spring Fair Tunnel Party from 7 pm to 10 pm.
Saturday, April 21: Spring Fair opens at 10 AM. For the first time ever, the Spring Fair concert will be on Saturday evening. Concert headliners are still a secret, but we will be hosting the annual Spring Fair concert once again at Ram's Head Live! Tickets will go on sale after Spring Break and are available only to current JHU students. Doors open at 7:30 pm and the show will start at 9 pm.
Sunday, April 22: Spring Fair opens at 10 AM and closes at 6 PM.