Learn More about Fraternity and Sorority Life
Posted: January 8, 2019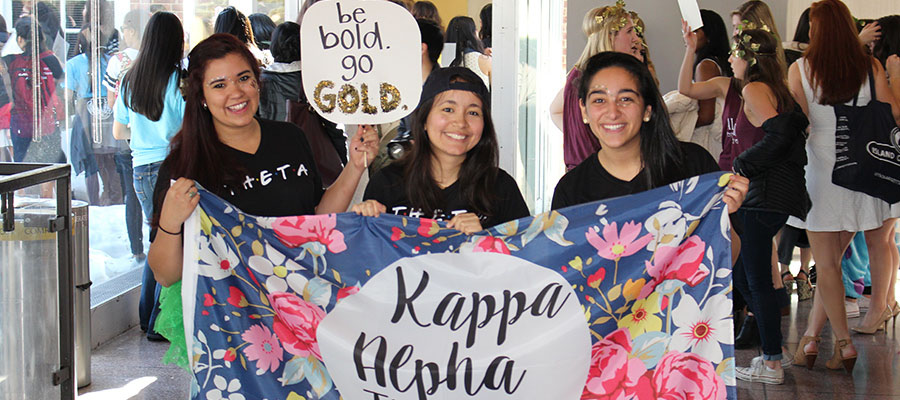 The Johns Hopkins University Office of Fraternity and Sorority Life (FSL) and the Office of the Dean of Student Life recognize and value the benefits of undergraduate Greek letter organizations. Close friendships, mentoring relationships, leadership opportunities, community service and philanthropy programs, alumni engagement, and an emphasis on campus involvement are hallmarks of the fraternity and sorority experience at Johns Hopkins.
Each new spring semester represents growth in membership for our fraternity sorority community with the new member recruitment period. If your student is currently a member of a fraternity or sorority that means that they'll be recruiting new members into their organizations. If your son or daughter is a first year student or is not currently a member, he or she may be interested in participating in the recruitment process. As a family member, we encourage you to become informed about fraternity and sorority activities, especially the new member education process. We ask that you partner in our efforts and talk with your student about speaking out or coming forward if they witness any behaviors that impact anyone's safety or are counter to the values of the Hopkins community. Membership in a fraternal organization can provide valuable opportunities to assume leadership roles, to network with current members and alumni, and to give back either through direct service or philanthropic endeavors to the local and national community, and to learn how to work with diverse people to fulfill their group's mission and purpose.
You may be familiar with some of the national dialogue surrounding fraternity and sorority communities; particularly with regard to hazing, overconsumption of alcohol, and sexual assault. Like most universities, we have not been immune to these challenges and continue to actively engage students in these conversations. We have enhanced our training workshops with sessions on hazing, alcohol abuse, and sexual misconduct. Additionally, the university constantly reviews and updates policies and procedures in an effort to make our community safer.
We hope you will visit the FSL to familiarize yourself with the community which is made up of over 1,500 students involved with 27 recognized organizations. This includes eight North American Interfraternity Conference (IFC) fraternities, five Panhellenic Association (PHAJ) sororities, five historically African American organizations (IGC), six historically multicultural organizations (IGC), two professional organizations, and one local society. Membership is open to all full-time, degree-seeking undergraduate students in good academic standing.
Additionally, our staff has created a website: Information for Parents as well as a PDF Document: Parent and Family Guidebook. This information will help you understand what organizations expect from your student, and equally as important, what you and your student should expect from an organization if they go through the recruitment process. You can also find the spring 2019 Recruitment Schedule for eligible chapters recruitment.
On the Chapter Conduct and Disciplinary Status page you will find information about Suspended and Underground Organizations and how membership in an unrecognized or underground group may affect you as the family member of a Hopkins student. Unrecognized groups or suspended organizations have a negative effect on our FSL Community because we are unable to formally provide them with training and guidance around university policies and procedures and, more generally, around safety and risk management.
Finally, as you and your student discuss membership in the Fraternity and Sorority community, please don't hesitate to reach out to the FSL staff. As university administrators, they are available, not just to your students, but to you as well.