Blue Jay Family Feature: Meet the Herbst Family
Posted: February 5, 2019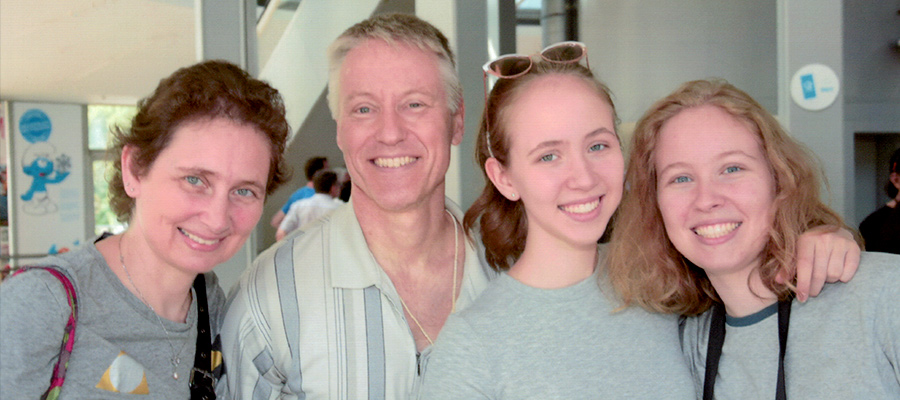 As international parents, Pierre Herbst and his wife Yvonne faced a steep learning curve when it came time to send their first child, Kameka, to college. The Herbst family resides in Hong Kong, but Kameka set her eye on Hopkins, thanks to its film program, flexible degree options, and its academic reputation. "We were unable to visit the campus before Kameka had to decide on which university she would attend," Pierre says. "Consequently, Kameka's choice was based purely on information she obtained from websites, books, written reviews, and word of mouth."
While Pierre and Yvonne supported Kameka's decision, regardless of the distance, there were several challenges—or "learning opportunities," as Pierre prefers to call them—to overcome, including visas, travel logistics, and mobile phone provider sign-up. "The way things are done in the U.S. can be different from other countries, even basic things such as how to get a cab," Pierre explains. "We were sure to start the process as early as possible, pretty much the minute after Kameka accepted the offer from Hopkins."
The early preparation included an extended trip to Baltimore for Kameka's first-year Orientation. "We arrived a couple of days early and checked into a hotel within walking distance of the Homewood campus," Pierre says. "This allowed us time both to get over our jetlag and to get an idea of the layout of the university and its surrounding, particularly shopping areas!" A combination of cab, Uber rides, and the Charm City Circulator allowed the family to navigate the city, get an idea of what Baltimore has to offer, and purchase some dorm essentials.
But the biggest takeaway from that first visit was the "supportive and family-oriented culture" that the Herbsts found on campus. "The family orientation sessions for parents of incoming students were a great way to be introduced to life at Hopkins, the people, what to expect, and where help can be sought," Pierre says. And since that initial visit, Pierre and Yvonne have continued to find support in family meet-ups, gatherings arranged by the JHU Hong Kong Parents' Leadership Council, and of course the Blue Jay Family Flyer, which they have found to be a great resources for deadlines and other information.
Now a second-year student, Kameka has made herself at home among Hopkins' state-of-the-art film facilities and highly knowledgeable faculty, dispelling any uncertainty about her place as an art student at a university known for its medical programs. She has also found extra-curricular activities to fuel her passions and expand her circle of friends, including editing at J Magazine, participating in the Students for Environmental Action group, and dancing with the K-pop dance ensemble KPM (Korean Pop Motion).
Pierre and Yvonne, meanwhile, are learning that while some issues are unique to international students and families, others are universal—such as the inevitable "Send money" call. "During your onsite campus visit, open a local bank account so transfers between family accounts are just a click away," Pierre advises. He also offers encouragement to all parents and families, however near or far: "Whatever concerns a new Blue Jay family may have, as clichéd as it sounds, it will all work out!"